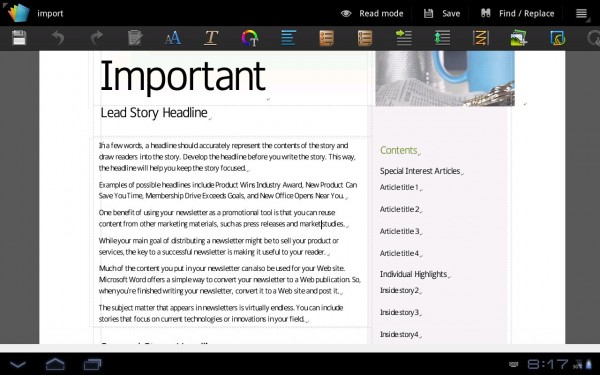 It looks like ASUS made a good choice when it picked Polaris Office for its ASUS Eee Pad Transformer office app and EAT has already taken a look at why you can't buy it, yet. EAT has had some time to play with it now and it appears to be yet another good reason for picking up the ASUS tablet. We've been putting the various aspects of Polaris Office through its paces, testing out just how well the word processor, spreadsheet and presentation aspects can handle Microsoft Office documents and how well they work in general and what we've seen has impressed us. Taking complex documents from Microsoft Office all aspects of office suite adeptly handled importing and editing these, both in the standard pre-2007 .DOC along with the modern 2007 .DOCX formats, though it's unable to save the Office 2007 format.
We've had a number of people question the ability of Polaris Office to cut, copy and paste both within itself and between other apps. Having had a deliberate play with it, we've happily cut and pasted text from other apps to Polaris Office and back again. Unfortunately the implementation within Polaris Office does leave a lot to be desired, as it's unintuitive and annoying to simply get the right dialogues to appear when you want them.
Polaris Office Document
As you can see the word processing element of Polaris Office happily loaded out complex Microsoft Office Word documents in both .doc and .docx modes. The main issue we spotted was that a number of images lost their layer positioning, popping infront of other text boxes. Despite Polaris Office's easy to use toolbar it does lack more advanced configuration that would make it easier to edit these complex type of projects but currently we wouldn't consider it likely you'd try and start that type of project on a tablet.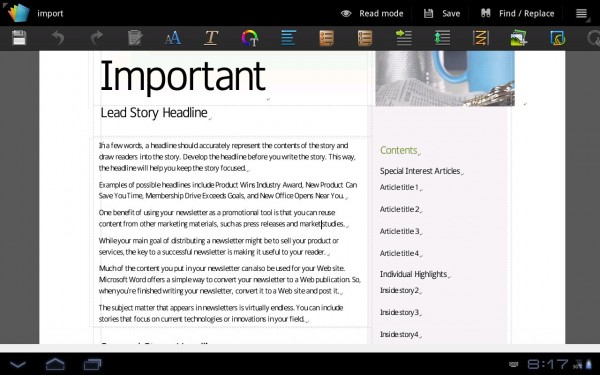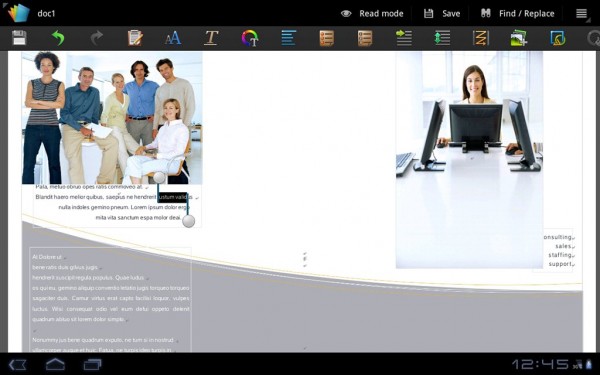 Polaris Office Spreadsheet
Confession time, the Spreadsheet section is the one we spent less time with. While we're happily competent with spreadsheets in general we rarely use them beyond calculating basic budgets and charting. Again the Polaris Office Spreadsheet happily handled our test Microsoft Office Excel .xls. We also gave the charting tool a sping and it was surprisingly easy to use and flexible. The options available do fall short of full desktop options but all the charting varieties you'd want are available.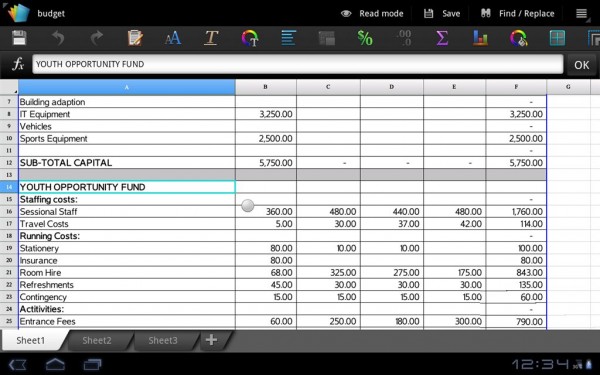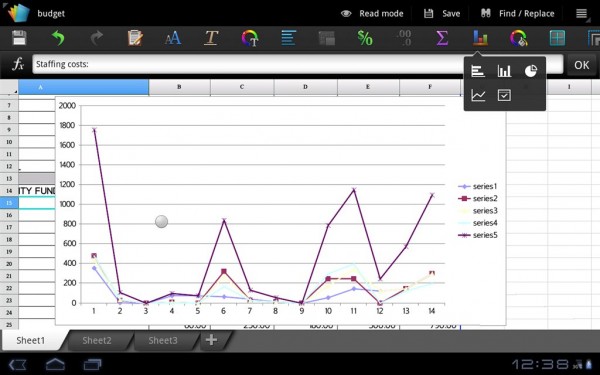 Polaris Office Presentation
EAT actually really likes Polaris Office Presentation, it again happily loaded our Microsoft Office PowerPoint 2007 presentations and did a fine job of both presenting them at full screen and enabling us to edit and update them. It provides an effective and attractive way of delivering presentations, at least on a personal one-to-one level.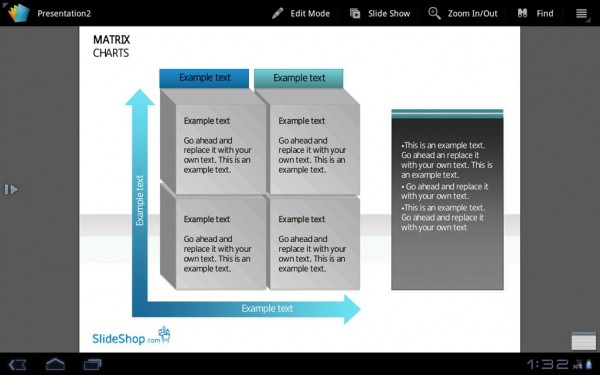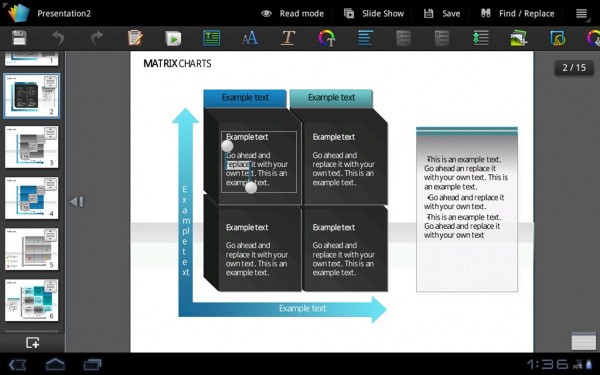 Polaris Office Gallery