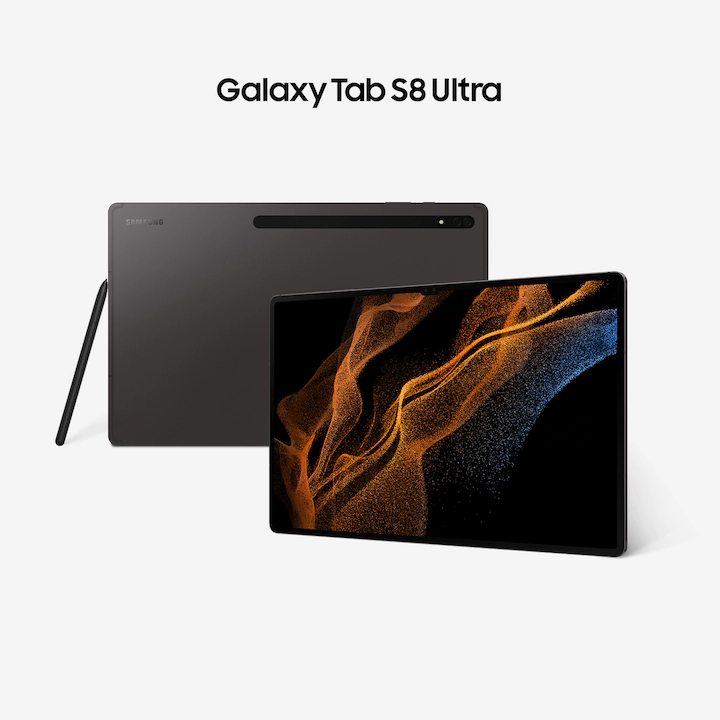 The Galaxy Tab S8 Ultra is definitely a stand-out tablet that takes every feature it has to offer to the limit. And, honestly, it should be expected from a device of this type and brand. Apart from that spectacular AMOLED panel, the Tab S8 Ultra has a multitasking management that will give you all the freedom in the world to use several app in the same time, from retouching photographs or simply produce more in our profession while chatting with friends or family in another window.
First Impressions
The Galaxy Tab S8 Ultra has left us amazed with all its features and capabilities as the tablet surely provides the best experience ever when it comes to Android tablets.
So we are going to discuss the strongest features of this tablet that since its launch without any doubt that this will be the best Android tablet of the year. Follow along.
Features Samsung Galaxy Tab S8 Ultra
Before we start going into detail over the processor, camera RAM, or other features that make this tablet a king on the Android market, let's have an overview regarding its technical specifications.
Processor: Qualcomm Snapdragon 8 Gen 1.
RAM: 8 / 12 / 16 GB.
Internal storage: 128 / 256 / 512 GB.
Screen
Size: 14.6 inches.
Resolution: WQXGA+ (2960 x 1848 pixels).
Technology: SUPER AMOLED.
Refresh rate: 120 Hz.
Rear camera
Main: 13 Mpx.
Wide Angle: 6 Mpx.
Others: LED Flash.
Front camera
Main: 12 Mpx.
Wide Angle: 12 Mpx.
Connectivity
Version with 5G.
Bluetooth 5.2.
WiFi 6E.
Autonomy
Battery: 11,200 mAh.
Fast charging: 45 W.
Other
Dimensions and weight
Dimensions: 208.6 x 326.4 x 5.5 mm.
Weight: 726 (WiFi) / 728 (5G) g.
Operating system
Android version: 12.
Manufacturer interface: One UI.
Gorgeous AMOLED Display
The Super AMOLED 14.6″ screen with WQXGA+ resolution is simply impressive.
Whether it's for our social media, streaming services, gaming or productivity, you are in for a level of experience that can't be matched by any other Android tablet on the market currently. Its ability to display images and colors in the best possible way makes the Samsung Galaxy Tab S8 Ultra tablet a delight.
And it is that with its 14.6 "screen will be able to replace even that smaller laptop that we have at home, or make things very difficult for another type of gadget that does not have an AMOLED panel for your multimedia content viewing experience.
This Super AMOLED panel makes the steep price of the tablet very logical, but what you receive in return is one of the best experiences you can have on Android.
Elegant Design
And if Samsung wanted to make it clear that no one can come close to their displays in terms of quality, they also flaunt their confidence when it comes to design too, especially knowing that the tablet is just 5.5 mm thick which makes it one of the thinnest on the market.
The matte finish gives the tablet an elegant feel no matter what side you look at it.
On the front it barely has bezels and again you can see the work that Samsung made in terms of design which is very clear that they have put everything to create a tablet like no other.
Exquisite Performance for a 5G Tablet
Behind the chassis, you can find the powerful Snapdragon 8 Gen 1 chip to give all the strength to that multitasking, games, or productivity so that not a pull is noticed that can tarnish the experience.
We have been able to launch several apps at the same time in that free mode to stay with the feeling that we are facing a technological product at the highest level.
Accompanied by its 8 GB of RAM with the possibility of increasing it to 12 GB or 16 GB if our portfolio supports it, since its different configurations can make its acquisition more expensive.
Apart from what is the hardware, it also has extra features like unlocking of fingerprint on the screen; that it is true that if more footprints were added for the rest of the family members, it would be their thing, since right now there may be few that can be registered.
Impressive Gaming Performance
The performance is excellent in many of the games we have tested and there is something that has powerfully caught our attention, its screen. Especially for the fact that we have never had the feeling of being in front of a tablet that almost imitates what can be produced on a PC.
That is, there are games, such as Rise of Cultures, that everything looks so big with a screen so wide that it can even crash sometimes and miss that small screen of our Galaxy Note 20 Ultra; and that is not a small phone. But hey, in the end you get used to it and playing a game from this Galaxy Tab S8 Ultra tablet is another different experience.
The worst and best of all is that as you make yourself play from this tablet, when you take a phone or other tablet with AN LCD panel, you will surely miss it, because it does not only use an impressive Super AMOLED panel, but it has WQXGA+ resolution so that the pixels invade our senses to leave us pathetic to any game that we play a game.
We have tested Genshin Impact at the highest level of graphics and it has pulled perfectly for a whole visual and gaming experience as you can not find on another Android smartphone or tablet. It passes in this sense to the Samsung Galaxy S22 + that had some pull than another when the graphic configuration of the MiYoho game is taken to the maximum.
Multitask Through Apps With a Breeze
With a tablet of this type with such a wide screen, multitasking becomes one of the central axes that we have to test yes or yes. We say this because we are facing a device that can be transformed into a dedicated space for our study or work, or one simply for some hobby such as digital painting or photo retouching.
With this in mind, we can better understand the dimension that the Galaxy Tab S8 Ultra takes with that AMOLED panel that makes everything look better. It is quite easy to manage windows and control all the apps we have open. In the right part of the center of the screen you can see the minimized apps so that with a press we can pass before all the open ones and thus expand them as we like.
A long press to move the app window freely around the desktop and thus expand it as it suits our needs, whether it is drawing, comparing results in excel spreadsheets or having an open chat while working on an application.
The productivity from this tablet reaches unsuspected limits and if we add to this that Samsung has included important improvements in the software of its personalized layer thanks to One UI 4.1, we are facing a lady tablet.
And it is that for certain needs the Galaxy Tab S8 Ultra can perfectly replace a PC. Especially for weighing almost nothing, being very manageable and for that AMOLED panel that brings us closer to new sensations that we invite everyone to try at some point.
It has never been made easier, and that we are waiting for that at some point of the year receive Android 12L as the optimized version for tablets and foldables, multitasking on an Android tablet so that even in that new version of Android the big G picks up the size of the divider that we can use in this Samsung Galaxy Tab S8 Ultra tablet.
As simple as moving to recent apps, tapping on the top of one of an app's windows and dropping it into free mode. We can open all the apps to move them through the 14.6″ screen and thus decide which one to save from a button dedicated to all those applications that we are using in free mode.
Of course, Samsung DeX is present, but we leave it rather for the next section with the Book Cover Keyboard case that we have had the opportunity to test.
A Chromebook in Your Hands
We are facing a tablet that we can transform into a laptop with this Book Cover Keyboard case. It connects very easily and even allows us to use it both to have the tablet in hand and thus protect it, and with its connection so that we have almost the same experience that we could enjoy on a Windows PC.
With a hold on the back we can tilt the screen so that the angle is the best for use, although it is true that in this mode we will always need a large surface to be able to place the Book Cover Keyboard; that is, you can forget to put the keyboard on your legs on the sofa, unless you find a way to hold the screen, since by its own weight it will fall.
The keyboard of the Samsung Book Cover Keyboard has a trackpad that works very well to use the pointer on the screen when we are in that DeX mode that imitates the experience of a PC.
Nor is it that we are going to go into more depth in the experience, since with saying that for certain needs, especially if we are used to using Google productivity tools such as the Cloud, we can imitate what a Chromebook would be, although it has its limitations (you will have to use WhatsApp in desktop mode).
Of course, if Samsung collaborated with Adobe to bring its design programs, just as Apple's iPad has with that almost desktop version of Photoshop, we would not miss almost anything for certain needs. In our case the limit is the Adobe program that in its Express version for Android is far from the desktop version.
Greatly Improved S Pen
Another important detail of this tablet is that it incorporates the S Pen as has happened with the Samsung Galaxy S22 Ultra (all Ultra from this year will have this accessory).
It implies that at the level of productivity or entertainment we have in our hand an S Pen with which to draw, take notes or manage simply with multitasking on this tablet.
The fact that the latency of the S Pen has now been reduced by up to three times means that handwriting is more intuitive and has a more natural point when compared to the same as the Galaxy Note 20 Ultra.
So we can say that the S Pen in the Galaxy Tab S8 Ultra becomes the tip to be a lady tablet at all levels. Even in the Book Cover Keyboard case there is a space to store it on the back.
Cameras Are Great for Both Photo and Video
In this element, we have to focus more on the dual camera module of the front, since it is where we have found a very cool experience. It allows you to expand the angle of view thanks to its dual front camera, a wide angle of 12 Mpx and a main one of 12 Mpx, so that we can record video in UHD type with wide angle so that the videos we make, especially for apps like TikTok, are like we have never done.
And the truth is that this experience is remarkable to have a Super AMOLED screen of 14.6 "in which we can look at ourselves to record anything. If you pass by a shopping center and you can take a look at this function, you will love it.
In fact, the front cameras, both one and the other, take good selfies as can be seen in the capture that we have attached.
As for the rear cameras, it has two, a main one of 13 Mpx and another wide angle of 6 Mpx. It is not that they are the panacea, but they fulfill their function perfectly to be able to take photographs with an optimal quality, always assuming that it is a device that will be the center of many needs in the home.
Above Average Battery Life
To give an example of the consumption that a game like Genshin Impact can make, configured to very high in graphics, it takes 48 minutes 7.8% of the battery capacity, so if we take our calculations, we have hours of screen to enjoy throughout the day or another with this tablet launched in Spain by Samsung
Final Thoughts
With so much quality in each of its aspects, this tablet has exceeded all expectations.If we had to choose two words to describe the Samsung Galaxy S8 Ultra tablet that would be "technological delight".
We can say that we are facing the best Android tablet ever launched on the market and Samsung, and with that setting the bar very high even for the competition while trading blows with another brand known by all – Apple.