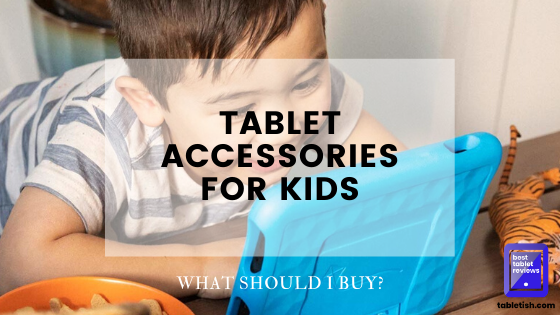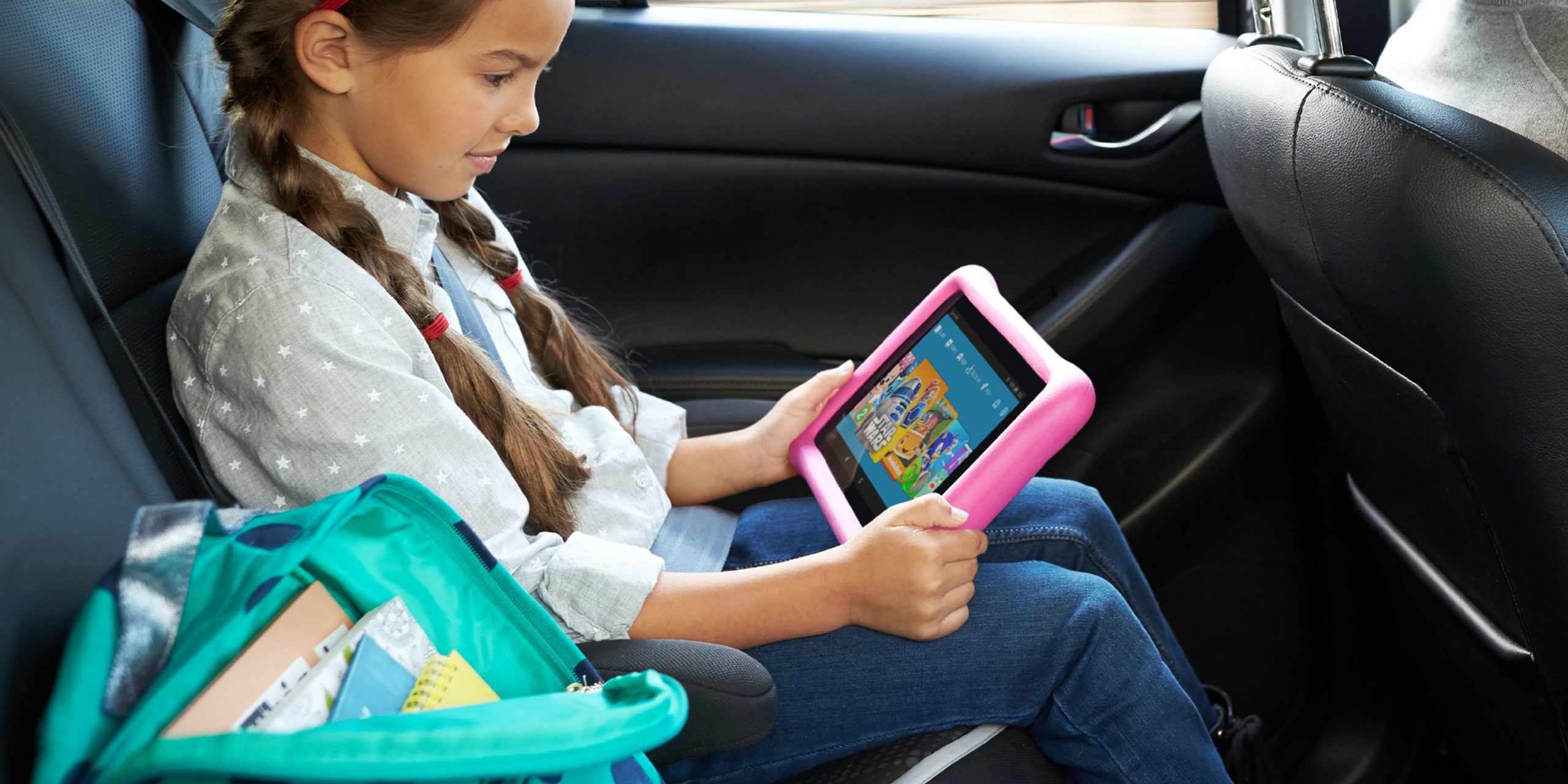 Having bought the perfect tablet for your kid, it just might not be enough when it comes to providing him the ultimate combination of comfortable and fun experience so you can mind your own business around the house or finish up chores without having your kid interrupting you every 5 minutes. That's why these tablet accessories for kids are something you want to consider, if you want to buy yourself some peace of mind. For at least an hour.
Protective tablet covers and support – How to choose the right one
As we know, we can find a multitude of tablet accessories for kids available with little to no effort, which makes tablet device use very easy. But that's not the real dilemma, isn't it?
It's about how to choose the right type of tablet accessories like covers and supports that are suitable for your kids' needs. So, we first must take into consideration all the different uses of the tablet itself so we can choose the right tablet accessory. Each occasion requires a different type of accessory, be it for reading, watching cartoons, or anything else.
So, in those particular contexts, it's really not the same when it comes to choosing tablet accessories for kids and for adults. The needs of the user are top priority here, and that is your kid or kids.
The holder especially, can range from static to very versatile and flexible ones affording you to put the tablet device in different positions for your kid to watch on it, or carry it, hang it, etc.
For everyday use on a dining or coffee table, we recommend small support accessories that allow you to regulate the height and angle of inclination. Whether it's reading, playing, or watching a video this kind of support makes it easier for the tablet to "do its job". That will also, in particular, facilitate user interaction and attention.
How to use tablet accessories around your home
If you want to make your kids' tablet accessible and easy to use in multiple rooms like the bathroom, the kitchen, bedroom, or the living room, these are the rules of engagement. First, you need to hang or place the tablet device always in the same place using the specific accessory or accessories. With this, you are kind of setting "landmarks" around your home, tablet-exclusive places where if your kid wants to use the tablet device in the bathroom or kitchen, it has to be at that specific place.
Buy why specific places? Why not all around the house, every bit and space of every room, floor, ceiling, bathtub carpet, in the fridge (kidding)? You see the point, don't you? That specific tablet-use-exclusive place should support your kid's tablet and the accessories in an integrated way in the day-to-day use that enables very easy usage while being comfortable.
If however, you're asking yourself "Is it better to have a single support for your kids' tablets or several?" now that we mentioned specific rooms and tablet-only places, yadda yadda… Well…it depends.
It really depends on everything mentioned above. That is, it depends on usage, context, needs, and room. Taking all this into consideration, yes, it is recommended to have multiple tablet accessories for kids where you can use a single add-on that is most appropriate in each situation or room. A good stand such as a good case, protects the device, facilitates use, and ensures better performance.
Here are some types of media accessories for your kids' tablet that we think it will pique their interest for sure.
Pillow support teddy dog for iPad and tablet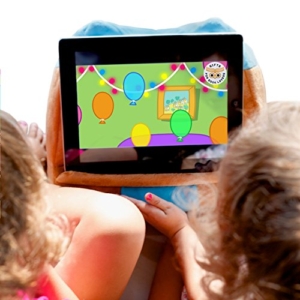 This attractive children's support becomes the ideal companion for your little ones because it can adapt to any surface. Ideal for Ipad and tablets of any size or even books. It can even be used as a soft stuffed pillow to take a nap after reading. So, fun time and then nappy time with no need to bother mommy or daddy.
Why should you buy a pillow support?
EASY TO WASH. The stuffed animal is made of extra soft synthetic suede of high quality. It is approved by EN71/ASTM as a 100% safe toy.
SUPPORTS TABLETS AND BOOKS OF ALL SHAPES AND SIZES

VERSATILITY. Thanks to its shape and lightweight, it allows us to use it virtually anywhere. For example, we can use it on the sofa, bed, floor or car. Individually or together.
100% SATISFACTION GUARANTEED. This premium high-quality product is the best on the market. They are so convinced of this, they offer a 90-day warranty if you purchase it through our link.
CosyHolder – Children's support cushion bag for iPad and tablet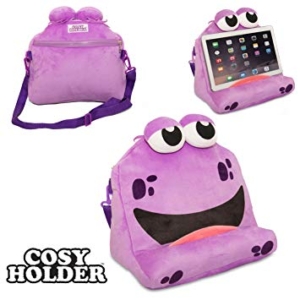 This child support is very similar to the previous one in terms of appearance and material. In addition, a back pocket is built-in from which a strap hangs that allows easy transport. Available in green and purple, it also allows the use of any type of tablet or book in different environments. The brand is Cosy Holder, recognized in the design of children's accessories. The design features and possibilities are the same as those of the previous bracket. But also, as we have already mentioned, it has the additional adjustable strap. Specifically we have used this support with children with autism gaining very successful experiences in their daily use.
Duragadget Folding stand with 7″ tablet stand function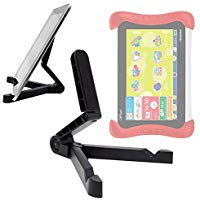 This type of support we like for its simplicity and functionality. It allows folding and has a very lightweight, which facilitates its transport. It is also very resistant on flat surfaces or with slight inclination thanks to the cushioning of its legs.
Why the Duragadget stand?
AVAILABLE FOR 7″ TABLETS. Fits different shapes of 7″ tablets regardless of brand or thickness.
VERSATILITY. Possibility to fold it and carry it comfortably in the bag or backpack even in your hand. It can be used in different environments such as the room, on the desk or the sofa, providing multiple usage options. Because of its appearance it is also recommended for teenagers and adults.
RESISTANT. Thanks to its durable and lightweight material, this stand does not easily perceive damage from falls or shocks
COLJOY Support Anti-Shock Lining Children's Protective Cover for Tablet 8.9″ 12″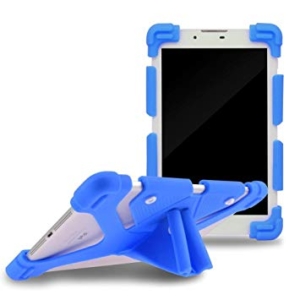 This stand with an integrated sleeve is very useful.

Mainly thanks to the adhesion of its material to the surface on which it is located. In addition, its protective silicone protects the device from shock in the most vulnerable areas such as corners and sides. It offers a comfortable grip, is very comfortable to clean, and does not take up space.
Available for 8.9″ to 12″ devices. iPad 2/3/4. iPad 5 (iPad Air). iPad 6 (iPad Air 2). Samsung Galaxy Tab 3 P5200. Samsung Galaxy Tab 3/4 10.1″. Galaxy Tab S 10.5″ T800. Galaxy Tab S 9.7″.
Foot holder for kids tablet with a universal rotating metal support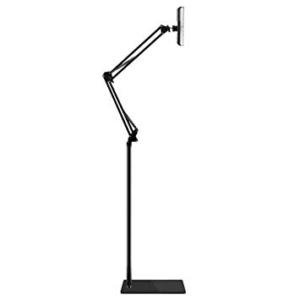 We've discovered this support recently and we love it for its great versatility. It is a very sturdy metal stand that allows you to adjust the device to different heights and locations. We can use it virtually anywhere.
Both from the bed and in the kitchen, in the bathroom, next to the wardrobe or in the living room. It also makes it easy for multiple people to view the device simultaneously without having to hold it on a table. Thanks to its possibilities, it is very suitable to promote autonomy in children, young people, and adults with autism. In addition, it offers us a wide range of possibilities to support your day to day.
Why this particular rotating tablet stand accessory?
AVAILABLE FOR 3.5″ TO 10.6″ DEVICES. All smartphones, tablets and iPads except 12.9″ iPad Pro
VERSATILITY. It offers to be able to place the device at the height that we need as well as use it in addition to other objects. It is not a heavy or obstacle to transport as it is also foldable.
RESISTANT. Very resistant material. Offers great stability on flat surfaces.
Which tablet support accessories to pick for use in the car?
We know that many use technology to support the entertainment and leisure of the little ones (and not so small) in the car. You have told us situations where children fight over the tablet or mobile. Other situations where they fall and start moving or run out of battery. As a result, they have a tantrum that sometimes costs to manage at the moment, especially if you're driving alone.
There are plenty of supports that help make in-car experiences a more enjoyable time for everyone. Next we want to offer you different resources and alternatives. But first, we would like to highlight the importance of preventing situations of dependence and abuse of technology.

Many parents tell worried that their children are angry and very upset if they don't have a tablet or smartphone at times like the car becoming a problem in the development of family life on a day-to-day basis.
It is very important then, to establish a use of technology-based on common sense and how to enhance the different areas or skills of the person in the day to day (including leisure, yes) but always from the management and control of situations and without letting it become a daily problem. To do this, you can, for example, alternate different activities and resources that combine the use of technology with other reinforcements, whether social interaction, primary or tangible games among many others.

Take a look at these car tablet mounts that really got our attention looking very sturdy and compact.
Universal Car Headrest Silicone Support for 7″-10.5″ tablets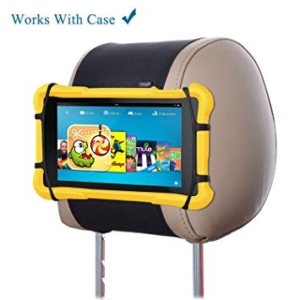 This simple support has earned us for its ease of installation and resistance to use.

It is a universal support for devices from 7″ to 10.5″ regardless of brand or type of material or thickness. Unlike some others we know, it doesn't easily resonate with the use or passage of time which offers a quality experience both in the short and long term. Due to its elegant design it goes unnoticed and is not a hassle when using the car on a day-to-day basis even if the device is not used. Ideal for different family members to enjoy their favorite videos and enjoy share moments together in the car while on the go.
Universal Car Support for Tablets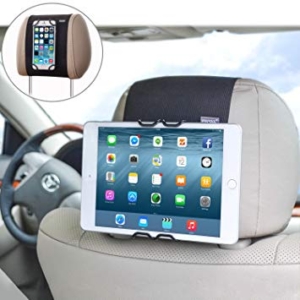 Similar to the above but with different size and clamping design, this stand is available for 6″ to 12.9″ devices (includes iPad Pro) regardless of brand or material type or thickness. It offers a very strong and stable fastening. Like the previous one, its elegant design goes unnoticed and is not a hassle when using the car in the day to day even if the device is not used. Ideal for all kinds of people. Thanks to this type of supports (like the previous one) the device is not within reach of the little ones so that many situations such as the fall or shocks of the device, can be avoided.

Samsung Galaxy Tab 3 10.1 inch for Car Headrest Support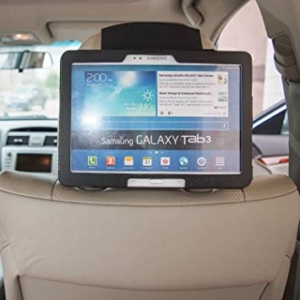 This simple stand offers us both the possibility of support adapted to the front seat, as well as advanced protection thanks to a sturdy case with integrated screensavers. It is a support for Samsung Galaxy 3 or later devices of 10.1″ or tablets with the same size and similar thickness.
The integrated case offers us the possibility to interact with the device protecting it from bacteria and any type of dirt in addition to scratches and bumps. The experience in using children in the car has been optimal even though sometimes with changes in light or height if the image can be impaired. Ideal for people whose field of view is at the same height as the device, such as young people and adults.
Auto rear seat organizer with heating by IACO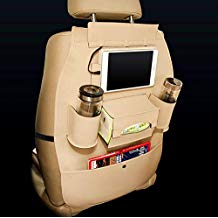 This support has a different size and utilities than we found in the previous media. It is fully integrated into the entire backrest of the driver's or car co-driver's seat (even in other seats in more seats) adjusting its material to the shape of the seat. This complete stand offers the possibility to store drinks, bottles, glasses and food, support the tablet or a book, save documents, books and magazines or connect an external cable to charge the different devices from the car.

It is easily cleaned, does not acquire unpleasant odor and the material is resistant to scratches and bumps.
How to use a bathroom tablet holder?
We would like to mention that the use of these different types of support accessories for tablets that we have mentioned throughout the article are very helpful for children with autism. These gadgets can be used by both families and professionals, utilizing the different supports in homes, schools, or therapy centers. The result usually is improved user quality experience in a functional and visible way.
That is why when asked about the use of supports in the bathroom, we can not help but remember some "guys" with whom in our trajectory, we have been able to enjoy many moments in this field. We want to emphasize once again that when we talk about using technology as support in the bathroom or in the activities of daily life, we always do so from a point of view of learning and functional development, avoiding generating situations of dependence and abuse.
We know the importance of interaction with the real environment, the perception, and the impact of object manipulation on child development and therefore we propose technology as a point of support for the generalization of learnings. This for us means using technology in a complementary and combined way to the real and close environment of each person, promoting different spaces of learning and interaction.
Tablet holders for the bathroom
We can find everything from table-type supports or that can be easily attached to a small sink space to medium-sized or standing ones, even some in "arch" or bathtub tray format. Thanks to them, we can easily implement the well-known "visual supports" to facilitate the autonomy of people with autism in everyday life.
Sequence tasks, edit images with audiovisual supports, interact with similar scenarios or use objects of the environment identified in a digital context, are activities and a multitude of possibilities offered by technology for learning and developing people with autism or similar needs.
We also want to highlight the importance of working the different learnings within the natural moments of the development of the person.
That is, work the scene of brushing your teeth when you touch brush your teeth in your daily routine or using the bath objects, when performing the same normally. It should be noted that this facilitates the understanding and functionality of the learnings since they are real experiences of interaction with the environment and at the moment, that is, operative behaviors that we have to consciously reinforce.
Most age-appropriate tablet accessories?
We find a wide variety of tablet accessories for both children and any other age. Defining the concept of accessory is therefore complex, so we will name the accessory to all the complementary tools except those that we have already talked about as covers and supports. We will then focus on the most common accessories such as touch pencils, headphones and sound amplification systems, screen protectors, and other specific tools.

DuraGADGET Tablet Kids Touch Pen Pointer/Pink/Blue Stylus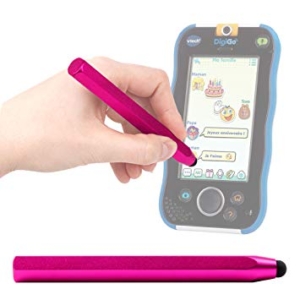 This type of pencil allows us to work with a multitude of apps to improve fine motor skills, training skills such as the stroke for interaction with the device or access to writing among many others. Over time we have met many people who have asked us if it was good to use a stylus and whether it had the same results as practicing writing on paper.

The answer is yes and no.

That is, a touch pen and a tablet, screen or digital table allow us to train the stroke, through graphics and playful exercises and even practice writing, that is, the psychomotor skills used in it are the same as in traditional writing. However, specifically, you do not work exactly the same execution as you have to take into account aspects such as the quality of the screen, the sensitivity of the device, and other features that affect.

Therefore, although it is very beneficial, we recommend combining the use of the tablet to train these skills, with traditional methods. An example of this would be to use it as a reinforcement or on a scheduled basis in a person's weekly routine and increase their difficulty as the goals are achieved.


Kids Headphones, Children's Helmets Music for Kids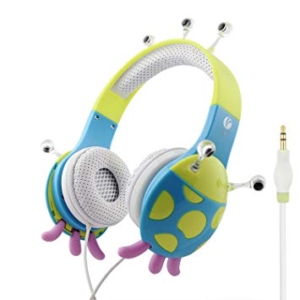 This type of headphones or helmets make it easier for children to easily listen to the sounds provided by an mp3, mp4, smartphone, tablet, iPad or PC device among others. It presents an attractive, visual, and customizable design by each user, making the accessory a very suitable resource for the day to day of the little ones. In addition to children with autism, these types of tools or resources are widely used to inhibit aversive sensory stimuli.
The internal material is padded in a way that is comfortable in its use, it is also resistant and its material and structure allow to use it over time and varying contexts without complexity. You only need to connect it by cable to a device and the audio will play instantly. Highly recommended as an accessory for tablets and other technologies that are suitable for children.
Key features of such items for children with autism
Safe volume limitation technology for children: built-in volume limitation circuit that keeps sound pressure at levels.
Custom design for kids: beautiful padded pads and a padded headband, safe and comfortable for children 3 years and older. (Recommended for children 3-12).
Universal compatibility: With a standard 3.5 headphone jack work with virtually all smartphones and tablets, such as iPhone 6 6plus iPad pro mini iPod Samsung galaxy s7, etc.
Kids Headphones: Kids Headphones, Lightweight design and fit, easy and convenient to carry Comfortable–Super Soft Earmuffs and Headband which is more comfortable to wear for a long time.
What you get: VCOM headphones for kids with stickers supplied from snowman/pumpkin/fruits (can random), friendly customer service.
Closing words
The world of technology is confusing enough even for us adults when in need to buy an electronics device like a tablet, phone or a laptop. When introducing our kids to the world of technology tablets are definitely the best way to go regarding their size and compactness as they provide a balanced level of interaction, just enough for the kids to stay entertained by the content that's on the screen whether that is playing a game or watching a cartoon and not to get overwhelmed by it.
Here at tabletish we hope our list of tablet accessories for kids is something that you'll find useful enough to help you make your pick the next time you're ordering a tablet gadget off amazon or when visiting Walmart.