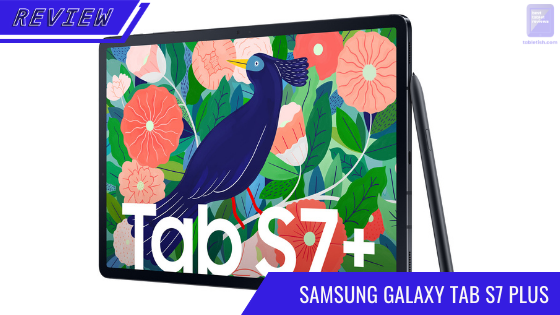 We already wrote a detailed review of the Galaxy Tab S7 so now we'd like to cover the slightly pricier Samsung Galaxy Tab S7 Plus.
The Samsung Galaxy Tab S7 is similar to the S7 tablet in many ways. But it also differs in some very important aspects that will enhance the overall experience when using it. So be sure to follow along to find out the subtle differences between the S7 tablet and the Tab S7 Plus.
The very first thing worth mentioning is the price of this tablet. It starts around $850 for the entry version. The price also depends on whether you op for a 4G or a 5G model, and storage option.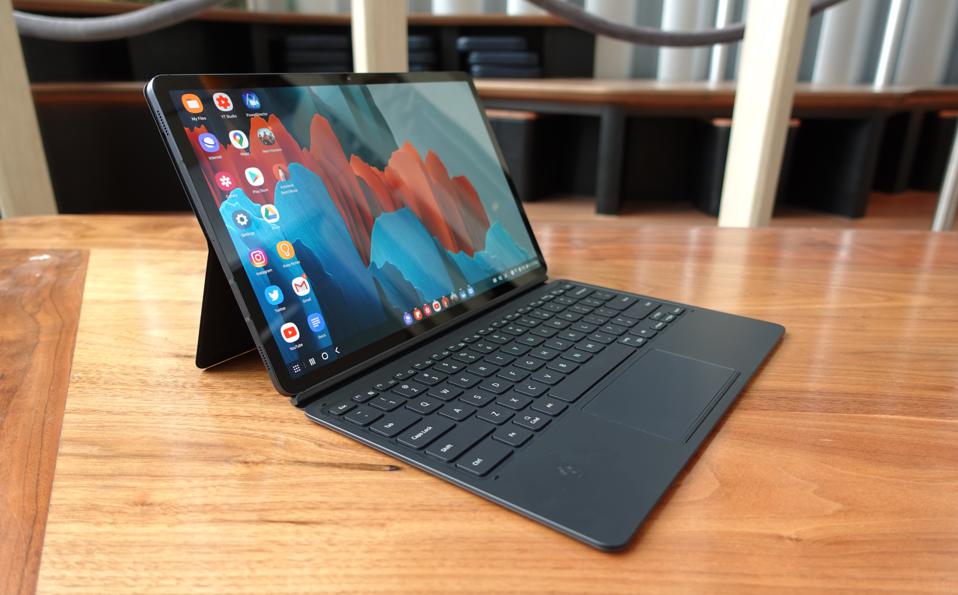 Regardless of how you plan to use the Galaxy Tab S7 Plus, it will serve you well for years to come.
Spec Sheet Overview
If you were eyeing this tablet just so you can watch Netflix, it may be an overstretch (of both your budget and needs). But hey if you can afford it, go for it. It is the "crème de la crème" right now in the world of Android tablets. It is capable of handling any game if you are into gaming on a tablet.
However, let's take a look at the specifications sheet below for the Samsung Galaxy Tab S Plus.
| | |
| --- | --- |
| Display | 12.4-inch SUPER AMOLED at 120Hz |
| Processor | Qualcomm Snapdragon 865+ |
| RAM | 6GB / 8GB |
| Storage | 128GB / 512 GB |
| Rear Camera | 13MP wide and 5MP ultra-wide lens |
| Front Camera | 8MP |
| Battery | 10,090mAh battery |
| OS | Android 10 |
As you can see, there are not many differences between the Galaxy Tab S7 and the Tab S7 Plus. The only ones are the better display quality on the Tab S7 Plus,
Design
The Galaxy Tab S7 Plus features a slick and modern design just as the Tab S7 with an on-screen print reader in comparison to the side-mounted one on the Galaxy Tab S7 tablet.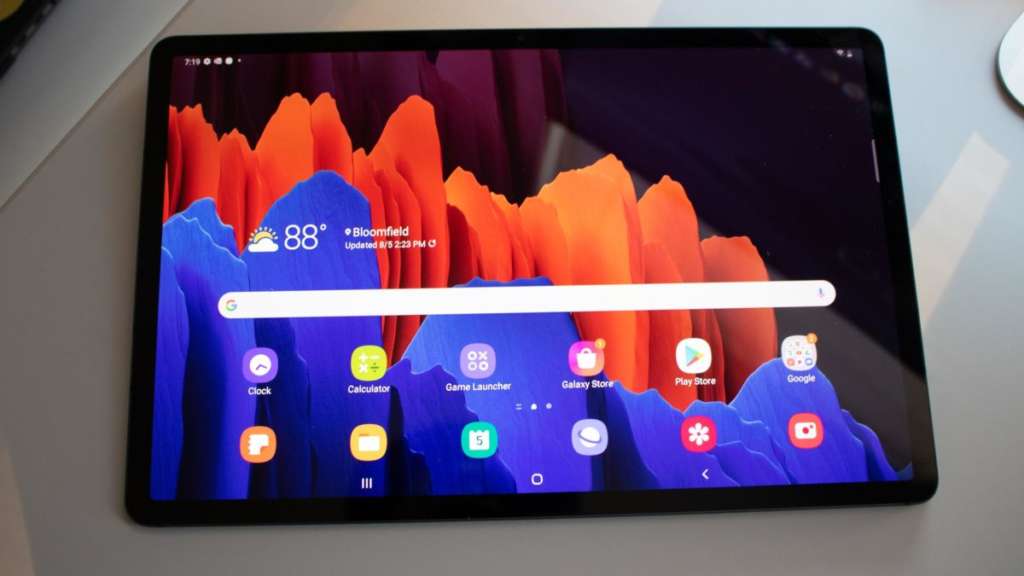 In terms of how the tablet looks, there is literally any difference at all between the Tab S7 Plus and the Tab S7 since they both have a metal (aluminum) body with a matte color finish and the WiFi 6 and 5G antennas embedded on the rear top and bottom sides of the body.
Some of the differences you'll notice on the Tab S7 Plus is the on-screen fingerprint reader and the bigger 12.4 high-quality AMOLED display, both features which are not present on the Tab S7. The Galaxy Tab S7 Plus also features a bigger 10,090 mAh battery.
Display
One of the highlights of the Galaxy Tab S7 Plus is the gorgeous SUPER AMOLED 12.4-inch screen.
WIth 12.4 inches of screen available, everything you'll do, be it playing tablet games or watching Netflix, the breathtaking AMOLED display will elevate your multimedia experience.
The positioning strategy behind the Samsung Galaxy Tab S7 Plus is clearly to become the android alternative of the 2020 iPad Pro.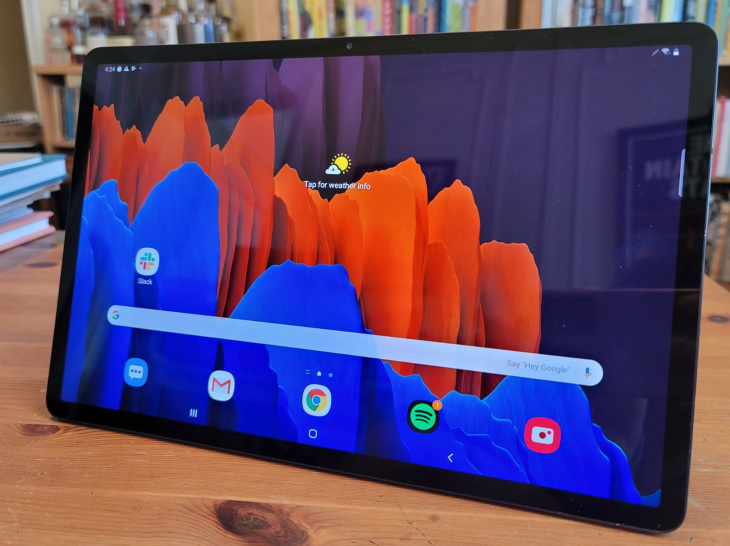 So, to answer the question popping in your mind – yes, the Galaxy Tab S7 Plus is a worthy replacement and a competitor to the iPad Pro 2020. If you were thinking about changing ecosystems and wanted to switch over to an Android-operated system, out of curiosity, I believe the Tab S7 Plus tablet will provide you with an excellent experience.
So, not only does the tablet offers great color reproduction and ultra-sharp detail but everything is buttery-smooth thanks to the 120Hz refresh rate, which renders twice the amount of frames per seconds compared to standard 60Hz screens.
Hardware and performance
Regarding hardware specifications we had a brief glimpse into the Galaxy Tab S7 Plus spec sheet just at the beginning of this article, and one thing is clear: this tablet is an absolute beast. It packs a lot of power meaning you'll be able to go through any task or app with no trouble. It will devour anything you throw at it and multitasking will never be a problem.
Of course, the top performance this tablet offers is understandable given the Snapdragon 865+ Processor and the 6 or 8GB of RAM (depending on which storage option you choose – 128 or 256GB).
Gaming on a tablet like the Samsung Galaxy Tab S7 Plus will be a thrilling experience as the Tab S7+ is capable of handling every single game you throw at it. It will provide hours of entertainment regardless of whether you are playing games or watching Netflix or just casually browsing the internet.
Battery Life
The battery life on the Samsung Galaxy Tab S7 Plus is phenomenal. WIth 10,090 mAh, the tablet's battery life can last a full day of usage with no problems, even if you are using it for heavy media consumption and entertainment like gaming and watching movies and shows.
It is a beast in this department as well as the other segments. It's an outright powerful tablet pc device that you can use for gaming, work, and everything else you can imagine of..
Software
The Samsung Galaxy Tab S7 Plus sports the Samsung One UI 2.0 over android 10 which is much improved version over earlier iterations and enhances the experience.
Samsung's One user interface has always been a discussion topic because of how it failed to fully utilize all the possibilities of Android and was just a meh, an underwhelming experience. Until version 2.0 came out.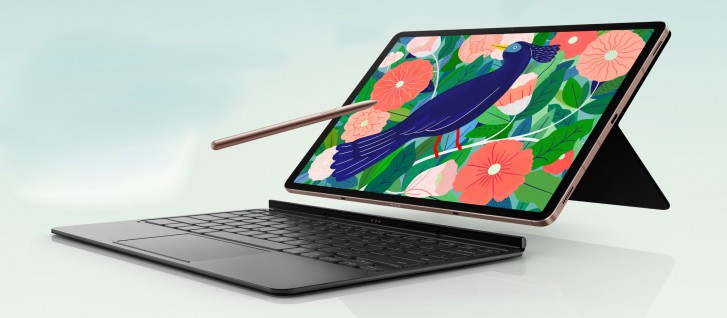 With Samsung's One UI 2.0 everything feels in control. Navigation is precise and not confusing and even more, if you feel like you wanna be productive, you can switch to DeX and get in a full-on laptop mode. DeX is a phenomenal experience, utilizing android 10 in such a clever way to provide a complete new working environment for tablet users.
Having a keyboard will completely transform your experience with the Galaxy Tab S7 Plus. If you need a mobile working device for medium tasks that's lighter and smaller than a laptop then this tablet along with a keyboard will meet your needs regarding productivity.
S-Pen
The S-Pen is also included with the Samsung Galaxy Tab 7 Plus in the box so you can start using the pen right away. You will experience almost no lag at all using the S Pen when drawing, taking notes or anything else. With 9ms response-rate and te 120Hz display there is virtually no lag when you use the S-Pen.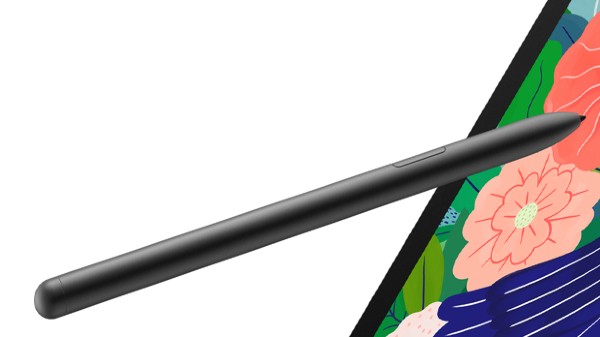 We found that the Tab S7+ works pretty well acting like a mini PC, but since it's Android, obviously there's no access to a full set of heavy apps like Photoshop CC, Steam or Ableton. I'm just saying, since it's worth keeping perspective on whether you'd actually spend your cash on a real or convertible laptop instead.
Cameras
When it comes to the camera system on the Galaxy Tab S7 Plus it's safe to say there's nothing special here. A dual-camera setup on the back with a main 13 MP lens and an ultra-wide lens, the images are just what you would expect from a tablet camera.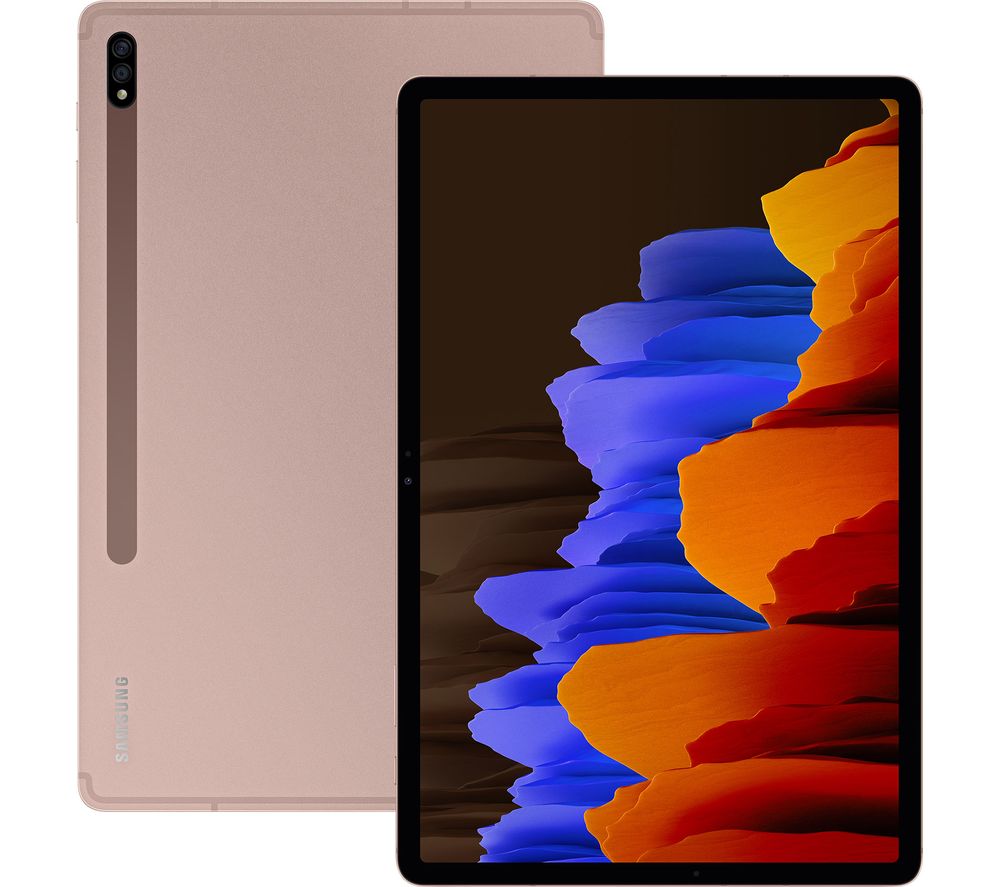 You can expect some improvements on the front camera module, which might sound like a good deal if you plan to use the tablet a lot for video calls and conferences.
In any case, if you buy the Samsung Galaxy Tab S7 Plus you should know that the cameras are not one of its strong points although they might be somewhat better than budget phones, in comparison.
Conclusion
There's no denying that currently, the Samsung Galaxy Tab S7 Plus is the Android best gaming tablet, productivity device, and the strongest competitor to the iPad in terms of performance and user experience. But a lot of people also do not need that much performance for casual daily use, gaming, reading books and comics, or just browsing Facebook and Instagram.
On the other hand, if you like being productive on the tablet or just want the best gaming tablet so you can play graphics-intensive android games, then this is the perfect option.