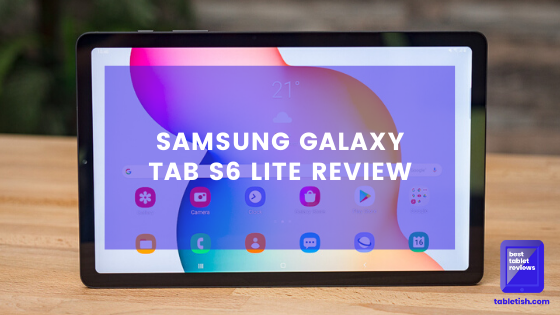 With tablets being the world in-between smartphones and laptops, they have taken on the form factor of lightweight, compact, and really powerful versatile devices, suitable for content & media consumption, content creation, gaming, as well as working.
Nearly a year ago, Samsung presented the Galaxy Tab S6. It's a powerful device pointed to the premium segment with quite remarkable features, coming as the main competition, and Android option, to Apple's iPad Pro.
Later this year, the company introduced the Lite version of their newest Galaxy tablet.
Quick Overview
The device is pretty similar to the Galaxy Tab S6 regarding the look and feel, but very different in terms of performance.
Spec sheet overview:
10.4″ (26.4 cm) TFT display at resolution of 2000 x 1200 (224 ppi)
Octa-core Exynos 9611 processor
4 GB of RAM and 64 or 128 GB of storage to choose from
7040 mAh battery
Runs on Android 10 (One UI 2)
Will the Galaxy Tab S6 Lite be able to maintain the level of performance of its predecessor? You can find more about its main features and how it differentiates itself from the S6 in the following review.
Where can I find the Samsung Galaxy Tab S6 Lite?
You can find the Samsung Galaxy Tab S6 Lite on Amazon priced at $349,99.
If you want a detailed buying guide on gaming tablets and how the Galaxy S6 Lite performs in terms of tablet gaming experience, you can find out more here.
Now, follow along!
Galaxy Tab S6 Lite Design
As usual, the first thing we'll tackle will be the look and feel of this tablet device. The Samsung Galaxy Tab S6 Lite arrives with a sturdy metal body, just like its older sister.
The tablet weighs just about 467 grams and is pretty thin, at only 7mm. On the right side, we find the standard unlock button, as well as the volume up/down button.
At the top, sitting perfectly, a 3.5mm mini-jack, a speaker, and a microphone. On the bottom, we have the USB-C input for charging * transferring data vie OTG and the second speaker.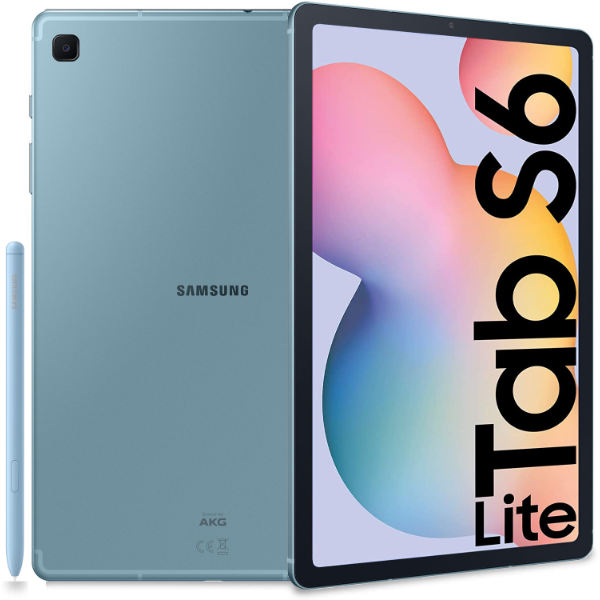 On the back, as usual, we have the camera module and the antennas.
Despite its size, the tablet is really comfortable and easy to use all thanks to its weight and dimensions.
In general, it turns out to be a device that stands out for its elegance and subtle design choices that only simulate features of a premium build.
At least in this section, it leaves nothing to be desired with respect to the S6 version of the Galaxy Tab.
Galaxy Tab S6 Lite Display
On the front, you should expect to find a TFT LCD screen of 10.4″ at a resolution of 1200 x 2000 pixels, which is a very common resolution on tablets.
In terms of pixel density on the screen, we have 224 ppi and an aspect ratio of 5:3. Finally, the display occupies 81.6% of the front of the device.
The screen of the Galaxy Tab S6 Lite is one of the puzzle pieces that add up to that "Lite" word in the model name.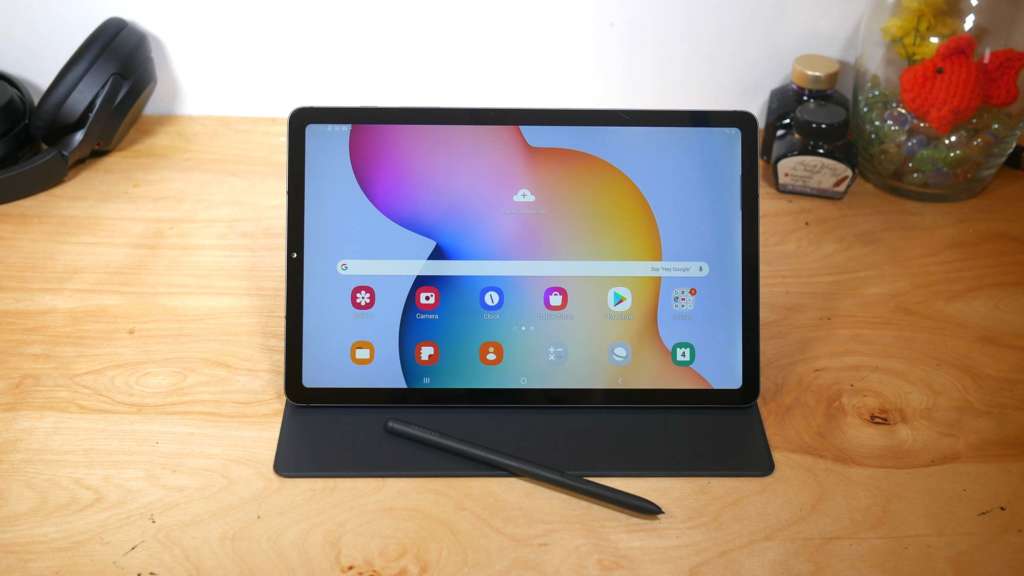 So, in terms of quality and experience, the panel on the S6 Lite is one of the main differences when compared to the S6, which had a gorgeous Super AMOLED display.
While the display can be really impressive on moments, it is lacking in color saturation and accuracy. There is a big drop in contrast sometimes due to the weird white and black balance on screen.
Using an LCD screen prevents your computer from having features like Samsung's Always On Display, a feature that keeps the screen on when your tablet is locked.
Galaxy Tab S6 Lite Performance
With an octa-core Exynos 9611 at 2.3 GHz, accompanied by a Mali-G7 MP3 GPU, the processor is another main differentiator between the Galaxy S6 Lite and the S6, since the latter sports a whooping-fast Snapdragon 855.
All of the above hardware supported with 4 GB of RAM and 64 GB of storage, (in addition to another 128 GB version) is really all you need for leisure activities like relaxing with Netflix and chill, play some games from the Google Play Store, and more.
The Samsung Galaxy Tab S6 LIte has expandable storage capabilities of up to 1 TB via MicroSD.
We can get behind the choice to give as a lower-quality display (not bad in its own right but only when compared to the Galaxy Tab S6's AMOLED), at the end of the day, it competes for a certain price segment and compromises must be made.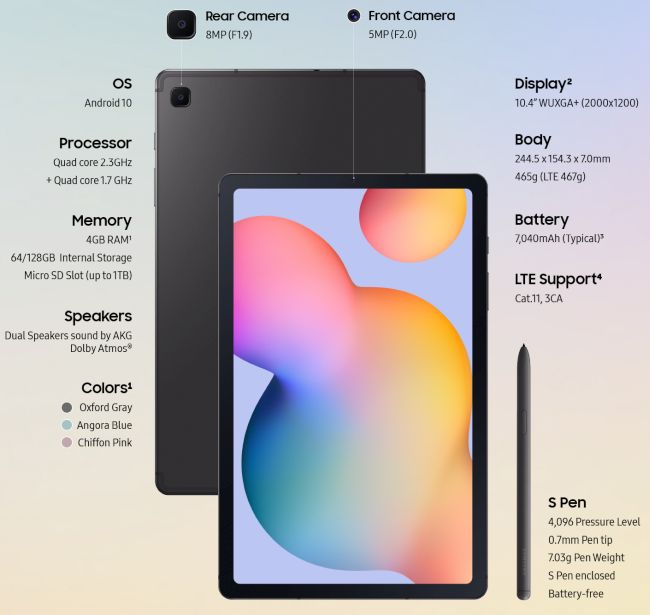 But, we just can't wrap our heads around the decision to put an Exynos chip in there, although Samsung are notoriously known for using their Exynos processors in their products to cut on costs.
Now, don't get me wrong. The Galaxy Tab S6 Lite isn't half bad. The tablet is pretty good for everyday uses, responds quickly, with the occasional lagging, especially when multitasking and jumping from one app to another.
However, besides that, we at tabletish.com believe it checks all the boxes, for the price it sells.
The Exynos 9611 is the same processor present on the company's mid-range phones, such as the Galaxy A51, which has been criticized alot for its poor performance.
Galaxy Tab S6 Lite Battery
The Galaxy Tab S6 Lite comes with a 7040mAh Li-Po battery, a 15W "fast" charger and with the promise of up to 10 hours of screen-on time.
Considering the above, the performance, in terms of battery life, frankly, left me satisfied and surprised. The tablet device can hit 12 hours of screen-on time, consuming virtually nothing when it encounters the screen off.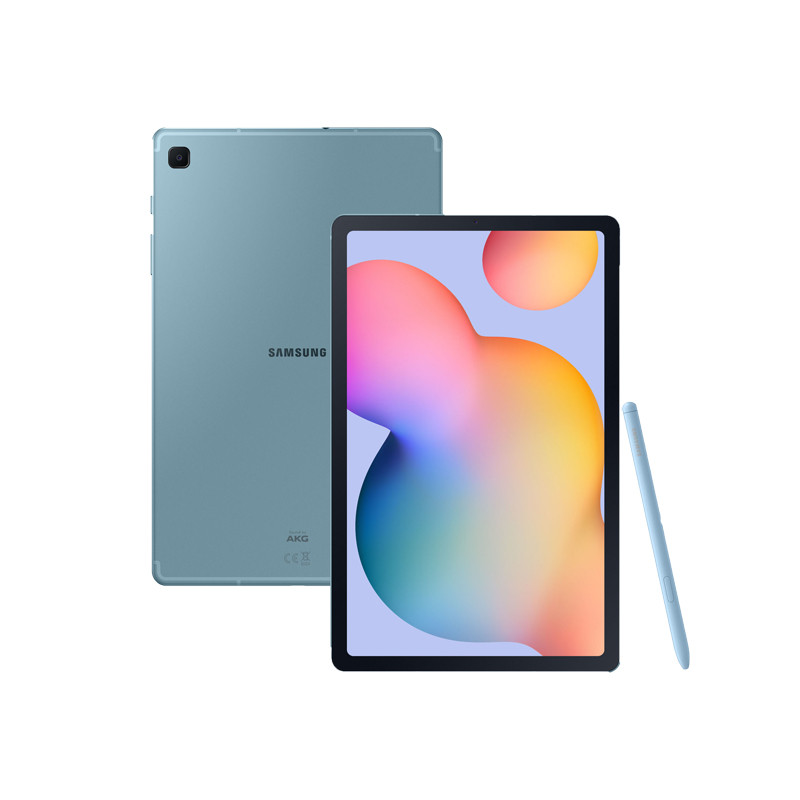 The most unfavorable point in this section is the charging time. With no fast charging, the time it takes to reach 100% is frankly abhorrent, as in 50 minutes it charges 24%, taking more than 4 hours to reach 100%.
Galaxy Tab S6 Lite Security
In terms of safety, there is facial unlocking in terms of biometric methods. This face scan then is analyzed through the software so its degree of accuracy.
The results are quite good and optimal, although it would perhaps require a little more speed when processing the unlock request. On the Tab S6 Lite, there's no fingerprint unlock feature of any kind.
Galaxy Tab S6 lite Software
We talked about hardware, now it's time to talk about the software that delivers the user experience. The new Samsung Galaxy Tab S6 Lite runs on Android 10 under a layer of customization – One UI 2.1.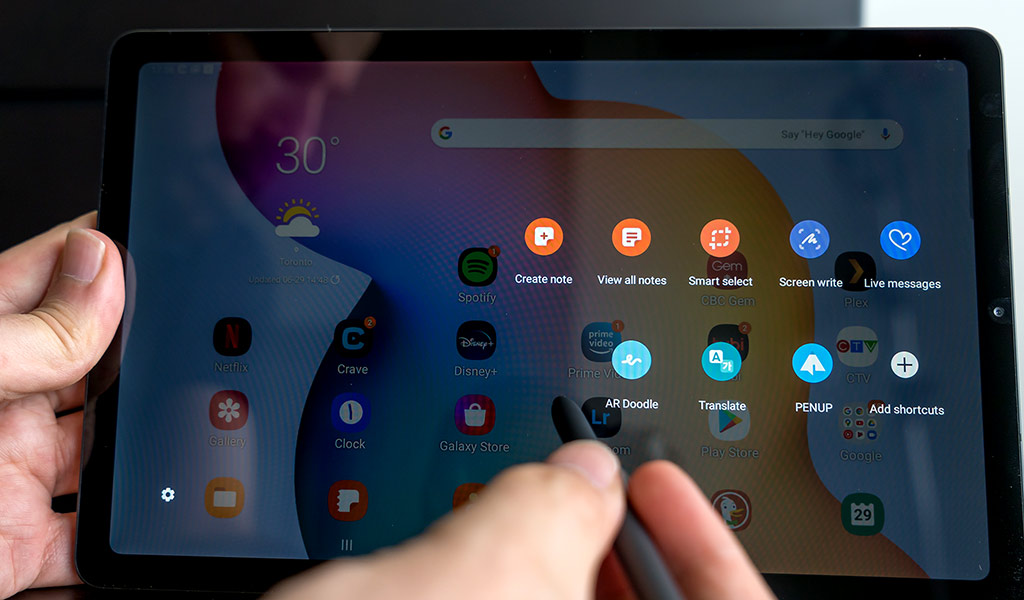 Layer that we're familiar with seeing on all Samsung phones, just like its pre-installed apps and services. Unlike the S6, the Lite Galaxy tablet does not have Samsung Dex, which allows you to convert the software into a desktop one.
Overall, Samsung's customization layer has always pleased me, in terms of experience with the exceptions of a few features. In this case, they are still there, in addition to having certain extra fallacious conditions that are accentuated when talking about a tablet.
Galaxy Tab S6 Lite Camera
The camera section on tablets is undoubtedly one of the least noteworthy. The Galaxy Tab S6 Lite comes with an 8 MP (f 1.9) main camera, which allows you to capture images in two modes, as well as record videos in 1080p at 30 fps.
In the case of the front camera, the sensor is 5 MP (f 2.0) and records at 1080p. The device does not have a flash.
Broadly speaking, the results from the Galaxy Tab S6 Lite camera test are not bad but neither the best. We have great photographs, as long as there is a good light condition. You get color accuracy and nice saturation on objects although with a considerable loss of details.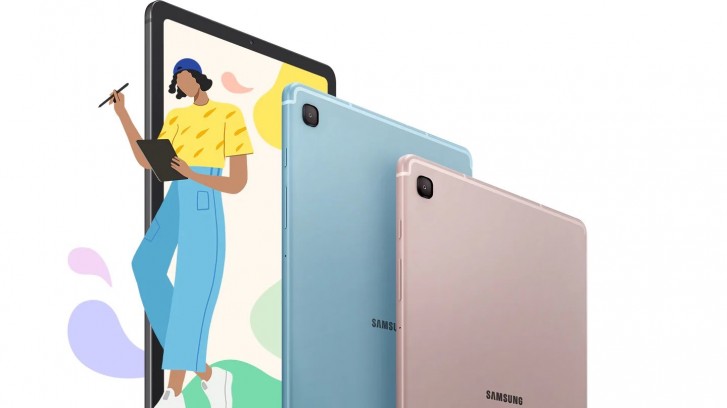 Apart from that, we have other modes incorporated by Samsung, such as PRO option, panoramic, food, hyperlapse. In addition to these, it incorporates the dynamic approach, which creates a portrait effect. This mode achieves poor results, as it works mainly with faces (human) and not with animals or objects.
The front camera, on the other hand, achieves somewhat poorer results than the main sensor on the back. The amount of detail is low, the contrasts of light are not well achieved and the selfies tend to be somewhat pale.
You get the same experience from the front camera when making video calls too.
Galaxy Tab S6 Lite Accessories
When it comes to accessories, the Galaxy Tab S6 Lite has the S-Pen included in the box which has come a long way, and to my honest opinion, it looks and feels better in your hand than the S-Pen on the Galaxy S6.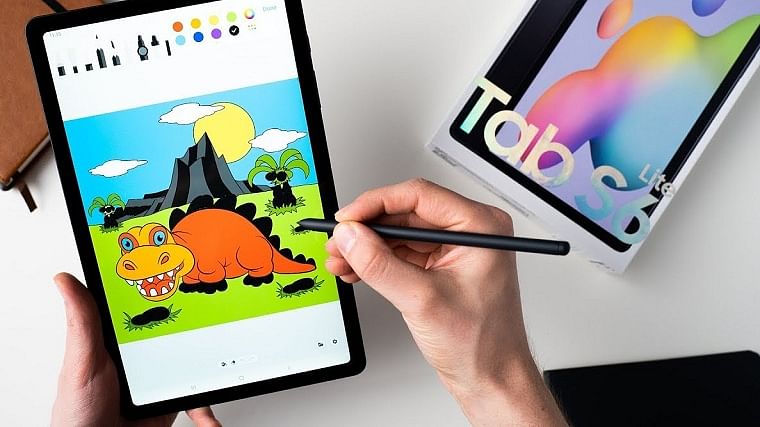 S-Pen
New great functions are introduced to the Galaxy Tab S6 Lite pencil, which ends up improving your experience so much.
First of all, and when you put it near the screen, we have a menu of options -editable- that we can do with that accessory. The main one is the one that allows you to take notes even with the screen off.
Although the experience with the S-Pen does not end there, since it also has a social network, PENUP, in which we can draw and share – with other users – our creations and paintings.
Don't know how to screenshot on galaxy tablet? The S-Pen's got your back.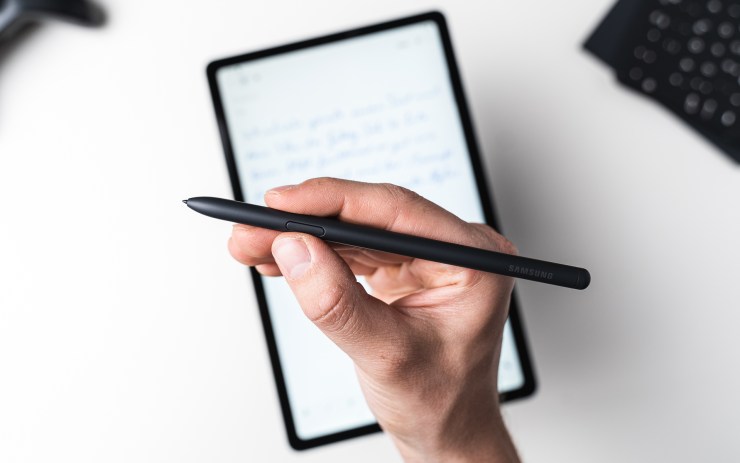 The pen allows us to do a gazillion things like taking screenshots, create GIFs, write on an image, translate a part of text that is selected by the S-Pen, color preloaded images, among many other functions.
Personally, I love the ability to highlight and create notes on the side of the text while I'm reading.
On the other hand, drawing and coloring with the stylus ends up being such a great and enjoyable experience yielding spectacular results. I'm sure creatives are going to love the Galaxy Tab S6 Lite for that particular reason.
Audio
On the inside, we have two samsung galaxy tab tablet speakers that end up delivering a very powerful sound, with enough bass, clear tones, and a well-defined treble.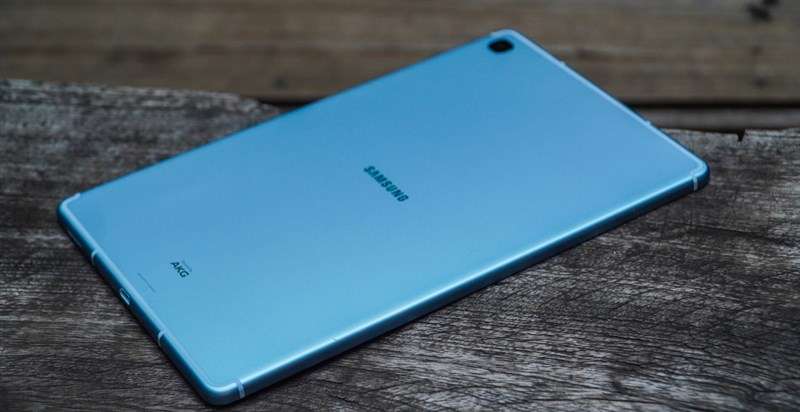 As with other Samsung devices, tab S6 Lite speakers are signed by AKG and feature Dolby Atmos.
In this section, the Tab S6 Lite wastes high quality and its speakers are worth noting, in addition to being located in a good place on the device.
Is the Samsung Galaxy Tab S6 Lite Worth it?
For its reasonable price, it offers plenty. A nice screen, a mid-range Exynos 9611 processor, 4GB of RAM, a big 7040 mAh battery, and the S-Pen. It may not be the best mid-range tablet but it is well worth your money. Especially geared towards creatives and casual gamers.
Overall, the new Samsung Galaxy Tab S6 Lite left me quite satisfied, although there are segments where it fails to check the mark.
On the positive side of things, we have a great design, a remarkable sound quality, and the S-Pen that will prove a delight for creatives. On the other hand, you're bound to encounter some performance issues with anything highly-intensive.
The Tab S6 Lite lacks to live up to the great performance that the normal Galaxy Tab S6 can offer.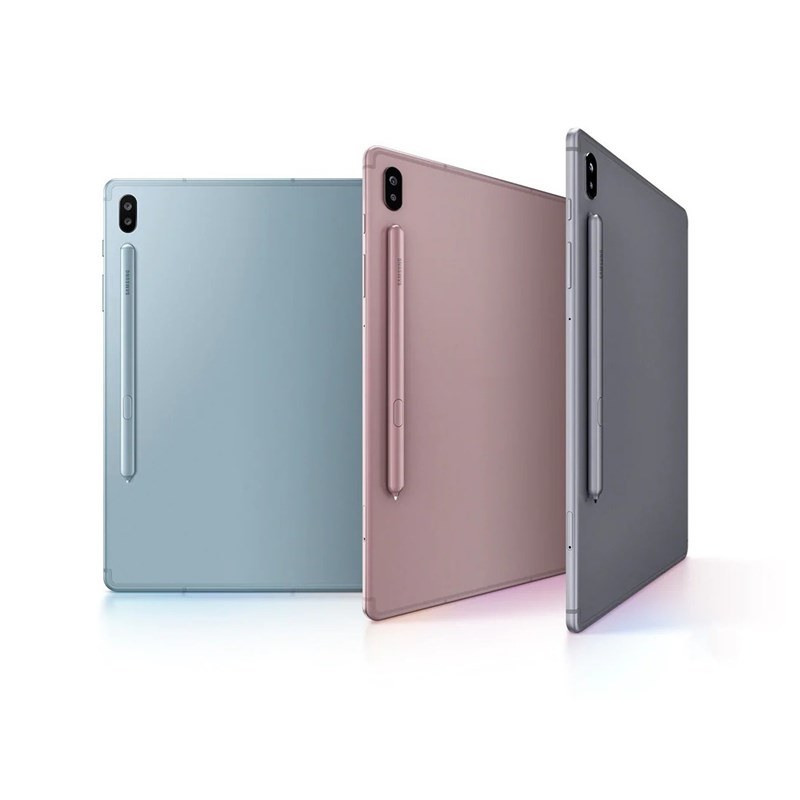 Android and Samsung are making an effort of lately when it comes to One UI but not enough yet – to match the experience we can have with the iPad and iOS.
Yes, the processor might not be what people expect from Samsung in terms of hardware, but if you know Samsung well, you are well aware of the fact that they tend to use the notorious Exynos chips in their products.
Finally, the Samsung Galaxy S6 Lite is by all means not a weak tablet. It should provide you with overall pleasant experience, be it watching Netflix or playing games on your tablet, but just don't expect too much from it.
You can find the Samsung Galaxy Tab S6 Lite on Amazon priced at 349,99.