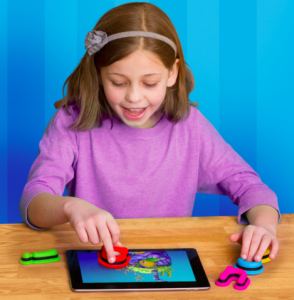 Learning System for Tablets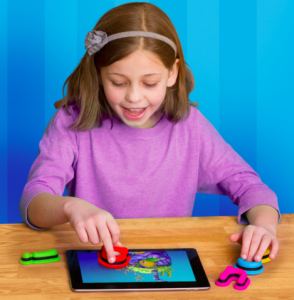 Tiggly, a company that makes a line of "iPad toys" that combine real-world objects with virtual play in mobile applications, has introduced a new game and called "Tiggly Words." Tiggly helps preschoolers build words by combining letter toys with iPad games. Tiggly Words is targeted at children 4 through 8 and is among thetop Christmas toysfor 2016.
Children can place the provided letters on the screen as part of gameplay in order to build words, unlock other game content, and advance the story. Tiggly toys features silicone touch points to make them safe for your child.
This educational game helps children recognize phonemes, construct sounds, and learn words by combining virtual and physical items across three different games — Tiggly Doctor, Tiggly Submarine, and Tiggly Tales. Your child can play with words and songs while building important language skills. This interactive toy for tablets is simple with no need for batteries, bluetooth or wifi.
Tiggly and Sesame Workshop have partnered to develop an cool new connected app experience, SESAME STREET ALPHABET KITCHEN. This educational app enables children to build words, learn new language patterns and discover new sounds.
Tiggly Words is a $30.00 kit that includes the toys, carrying case and three learning apps. Other Tiggly games include Math Toys and Shape Toys.