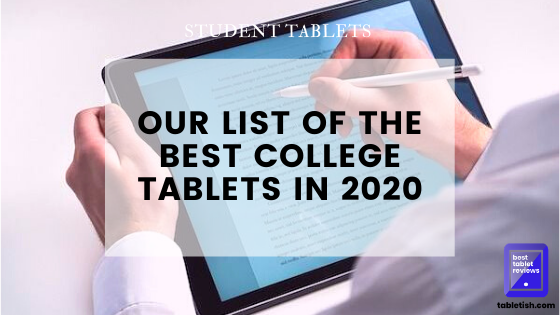 Are you headed to college? Well, then, the need for looking and finding a reliable laptop device or better, student tablet is inevitable. The education system is stepping up the game utilizing technology, apps, having no problem with laptops and tablet devices being present in the classroom so having a tablet companion with you all the time, for taking notes in class or studying at home can be a much-needed help.
So what are the best tablets out there for college students that we can recommend? Scholars usually require a lightweight, multifunctional tablet and easily portable for themselves but the same can be said for students too. Therefore, you should go out looking for the best tablet for a college student taking your specific needs into consideration. To make your search easier, we've filtered our list with some of the best student tablets that you can use at college.
Today's college students perform most of the tasks using their computers, but they surely need a nice compact tablet for note-taking in college, studying, or just to complete their daily college tasks in an efficient and easy way. These tablets can help you take notes instantly and complete many other demanding college tasks.
They can also relax on social media or watch YouTube and Netflix using a tablet. While laptops are the standard at universities, many students also opt for tablets. They are less expensive and weigh less. They are very useful when it comes to taking notes or casual work. As good as any low-end laptop, actually. Students can easily download apps needed for taking notes or reading any college-related e-book on their tablets.
Samsung Galaxy Tab S3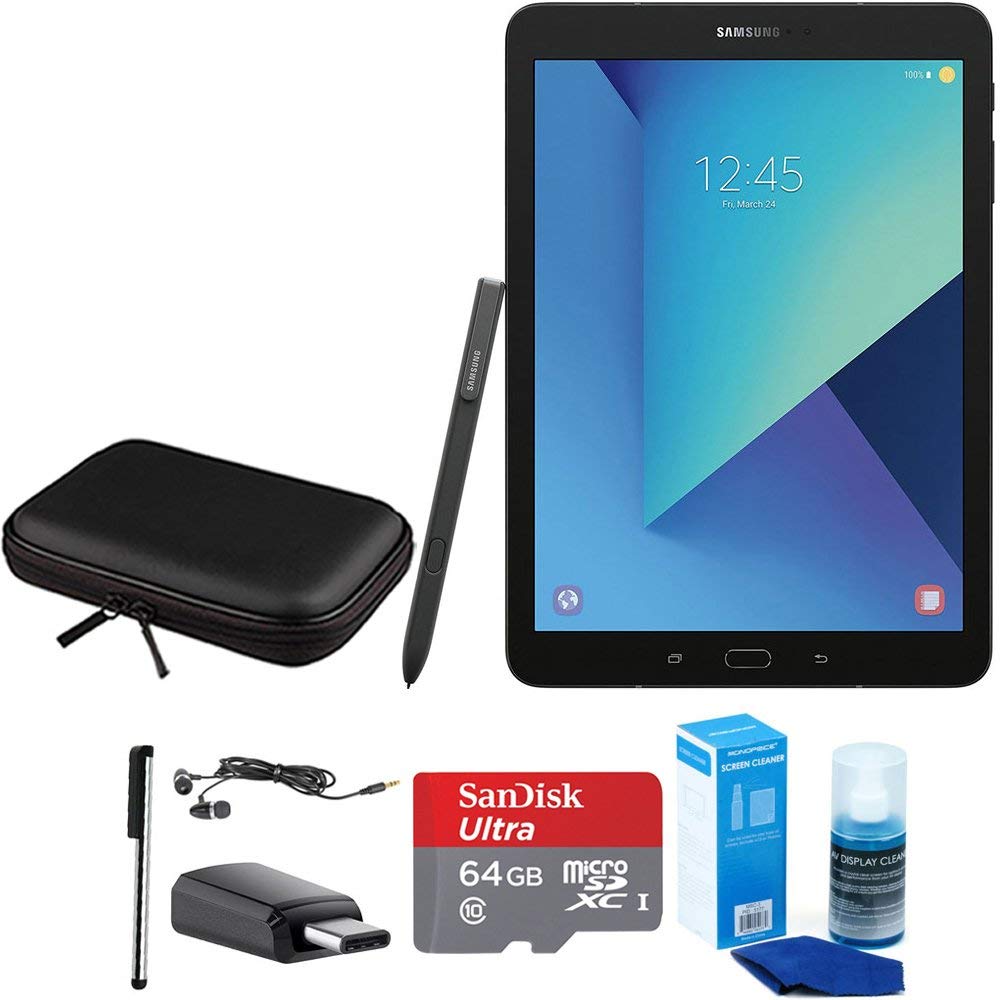 It is one of the best Android tablets you can buy today and a worthy competitor of the iPad Pro. It comes with the best line specifications. The design is completely glass and future-proof, and HDR-ready. It is thin and light and feels comfortable to hold. It weighs 389 grams and is thin in 5.6 mm. The hard drive is 32 GB with Ultra MicroSDXC, UHS 1. In terms of connectivity, there is a usb C male type C to a female USB 3.0 adapter. The RAM is 4 GB and the flash memory size is 64 GB. Qualcomm processor records a speed of 2.15 GHz. Battery life averages around 12 hours. The webcam on the back has a resolution of 13 MP.
The HDR display is bright with pixel-dense Super AMOLED panels. The resolution is 2048 x 1536 quad HD with high contrast and bright lights. Quad speakers are excellent and provide a powerful volume compared to other tablets. The speakers are also calibrated for movement, so the orientation changes according to their movements. The tablet offers support for Bluetooth version 4.2 and comes with a 3.5mm headphone jack on the bottom.
The S Pen completely unlocks the potential of this tablet. It has a thickness of 9.4 mm and is easy to hold, comes with a 0.7 mm rubber tip and a side button to open Air Command tools. All other tools like Notes; Smart Select; On-screen writing is present for the S Pen, along with additional features such as Translate; Increase; Look and so on. You can write and draw with the S Pen using Samsung or other Apps from the Play Store. There is a loop on the keyboard to save the pen.
The keyboard must be purchased additionally, but is usable and functional. There's a back cover and everything folds well. Although there is an S Pen included in the package, consumers must pay for the keyboard. It's an HDR-ready tablet and comes with powerful speakers.

Recommended for:

College students looking for a tablet with S Pen and powerful speakers, utilizing the accessories for taking notes in the classroom.
Those who want a 2 suitable for travel in 1 that offers great productivity, as long as they are willing to buy a keyboard separately.

Samsung Galaxy TabPro S Convertible 2 in 1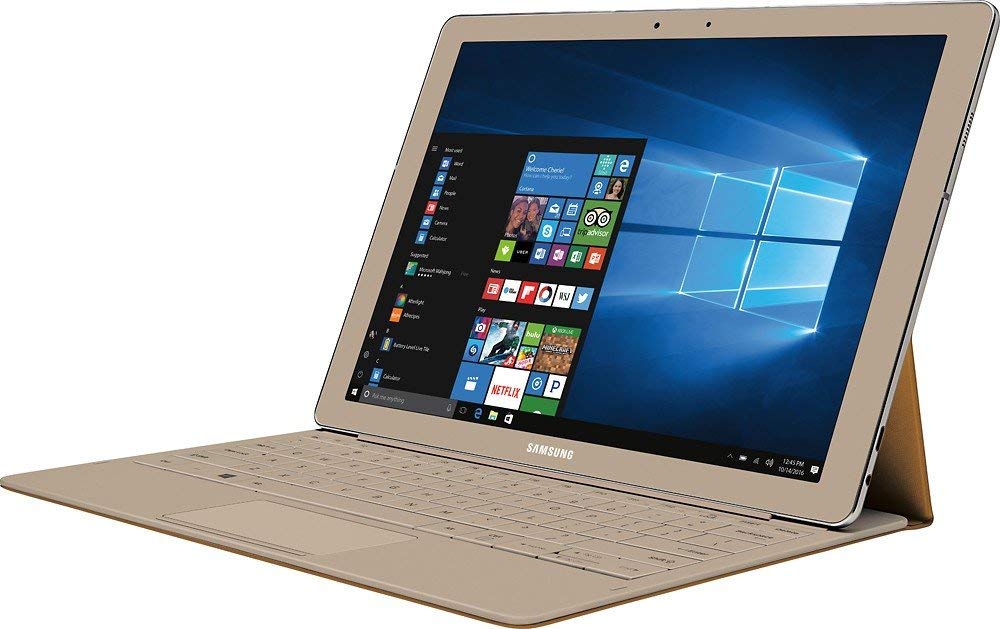 The design is impressive, with Gorilla Glass on the front and a rubber back wrapped in an elegant metal frame. It is extremely portable with a slim keyboard that also functions as a cap to close the tablet. The weight is 1.5 pounds and is 0.2 inches thick. Dimensions are 11.4 x 0.2 x 7.8 inches.
For connectivity, there is a USB Type-C port and that's it. The display is excellent with Super AMOLED technology on the 12 inch screen with a pixel resolution of 2160 x 1440. Power consumption is also lower due to Super AMOLED technology. You can also make on-screen adjustments using Galaxy settings, such as Cinema; Photo; Basic options, etc.
However, the pen is not included with the tablet, although Samsung has included the keyboard with it. If you purchase the stylus additionally, you can use the Windows Fresh Ink feature as it offers native support. It is powered by Windows 10 and comes with Intel processor, generation 6th Intel Core m3 6Y30 dialing at a speed of 0.9 GHz, with 4M cache. The speed can be increased to a maximum of 2.20 GHz in turbo mode. RAM is 12GB DDR3 SDRAM and has a 256GB SSD hard drive memory, combined with Intel HD Graphics 515.

Recommended for:

College students who want a solid but expensive 2 on Tablet 1 Windows. You can easily throw it in your bag.
For those who want to use the tablet in landscape mode, and not as e-reader.
Students who want a laptop replacement as it can function as a semi laptop from the first moment.
Suitable for creative professionals as it comes with one of the best screens you see on tablets.

Apple iPad Air 2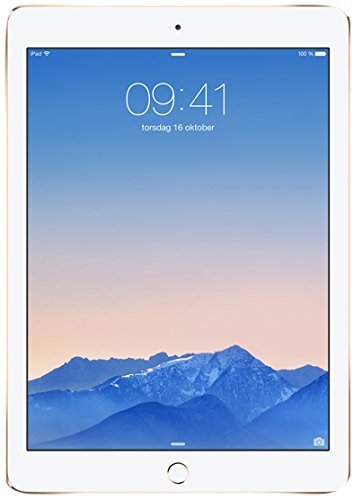 Yes, it's 2020, we know. But Apple has managed to improve the iPad Air with the iPad Air 2, exceeding its limits again and making this tablet a very viable budget option in 2020 for students who want to take notes in college. Coupled with a keyboard, it might be the best tablet for note taking in college. It is 6.1 mm thin and is one of the finest tablets available on the market today. The camera is a new iSight 8 MP with a high resolution of 1.2 MP for FaceTime and 5 MP for the rear camera. The dimensions of the iPad Air 2 are 0.2 x 6.6 x 9.4 inches and weigh 15.4 ounces.
It has a premium look with a ceramic type back. When combined with a Bluetooth keyboard, it becomes a perfect replacement for a laptop. Touch ID is great and very useful for making payments on the go, even if you don't have your credit card. The touch screen is responsive and navigation is a pleasure.
The tab is powered by the A8X chip; The 64 bit combined with the M8 motion coprocessor is very fast. The split view feature available on iPad Air 2 is very useful, as students can run two apps side by side. The screen measures 9.7 inches. The display has multi-touch enabled and uses IPS technology with a pixel resolution of 2048 x 1536. Battery life is around 10 hours. Ram is 2GB DDR2 and the hard drive memory is 128 GB.

Recommended for:

Students who want a super lightweight and powerful tablet with touch screen. You can hold it comfortably for hours.
Those who are willing to pay a high price for the excellent construction, great quality and amazing look.
Excellent device for watching movies and TV shows, with excellent screen colors and contrast and powerful speakers.
Suitable for players too, with a rich and immersive screen.

HTC Google Nexus 9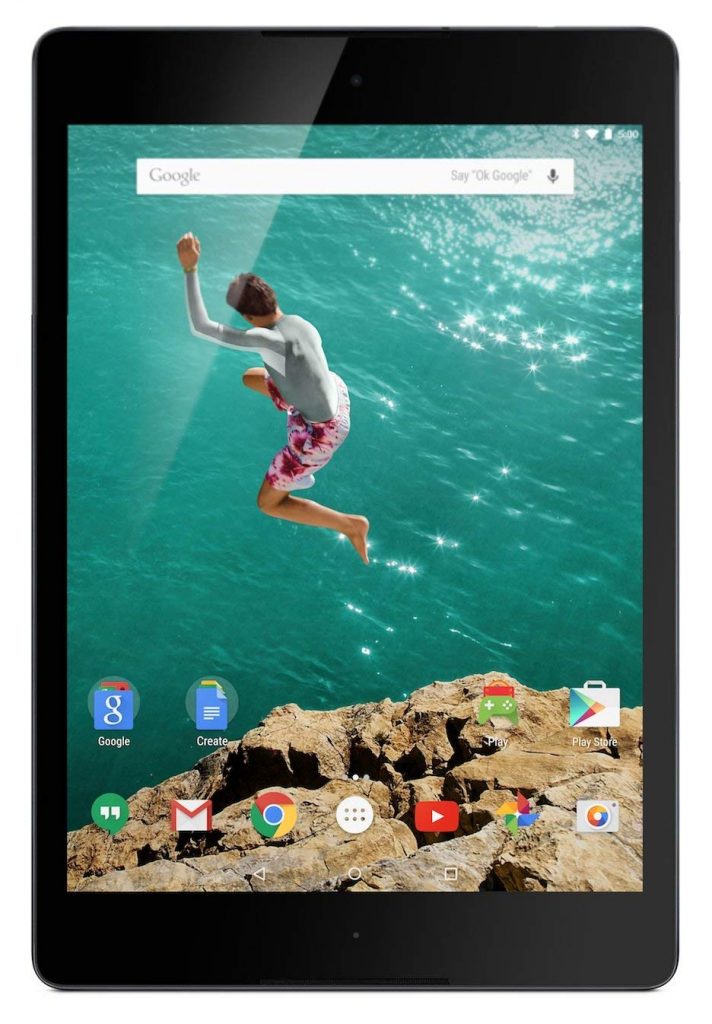 It was released with the operating system Android Lollipop 5.0 and then moved on to Marshmallow and Nougat. It has the latest NVidia 64 bit processor. The NVidia K1 Tegra chipset combined with Android stock makes it a future-proof and more powerful tablet. The processor registers at a speed of 2.3 GHz. The hard drive memory is 32 GB and the RAM is 2 GB DDR3.
It has a metal frame with rubber backing and is easy to grip. The Google Nexus 9 comes with a screen size of 8.9 inches and a screen resolution of 2048 x 1536 pixels on an IPS LCD screen. The dimensions are 9 x 6 x 0.3 inches LWH and weigh 15.4 ounces. It has a point 10 multi-touch display.
There is a new feature called double-tap to wake up the screen, which is quite useful for college students to quickly wake up the tablet as it is quite heavy and it would be tedious to press a small button and grab the tablet at the same time.
Your keyboard doesn't need to be plugged in and you can connect it wirelessly via Bluetooth. The battery runs on 6700mAh and can last an average of 15 hours. It has a rear camera of 8 MP and a resolution of 3264 x 2448 pixels and a front camera of 1.6 MP.

Recommended for:

Useful for college students for productivity purposes with an ideal aspect ratio.
Those who want to browse the web or edit documents, as it comes with more height in landscape mode and offers more room to read the text. The screen size is good for working.
College students who want good audio performance, to watch movies and listen to music or play games.

Apple iPad Mini 4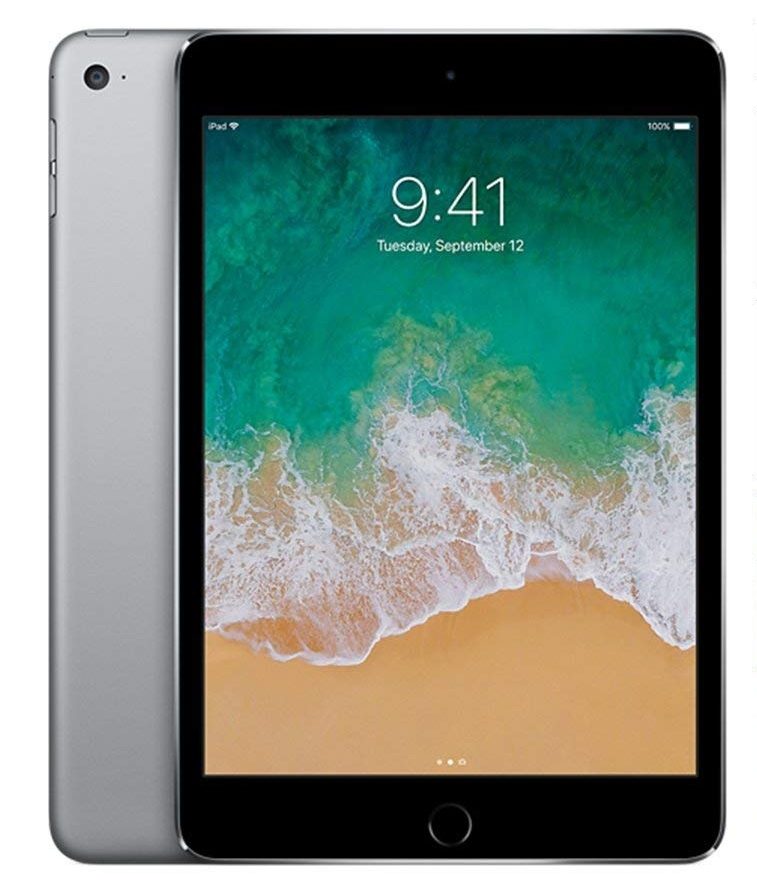 The display is an excellent 7.9 Retina display. It is elegant in 6.1 mm and weighs only 0.16 pounds. It offers excellent build quality in an impressive aluminum body that is also sturdy. The dimensions are 7.9 x 5.3 x 0.2 inches LWH and it is very comfortable to hold in one hand. The display comes with a new IPS panel and is spectacular with detailed and accurate images. The resolution is still 2048 x 1536 pixels with a pixel density of 324 ppi, which offers sharp images, and also comes with an anti-reflective coating.
The iPad Mini 4 works with the A8 chip and delivers powerful performance. Originally ran iOS 9 with split view mode, allowing students to run two apps side by side. It has a quad core A8 chip quad-core graphics, dialing at a speed of 1.5 GHz and a RAM of 2GB.
The iPad Mini 4 has an 8MP iSight camera on the back that offers more details for the images, so you can take some good photos with it, in case your phone is not available. It also has the Touch ID fingerprint feature, making it easy and quick to log in to your tablet instead of writing a code. You can also use it to authorize Apple payments. Battery life is approximately 10 hours.
It has a hard disk capacity of 128 GB. A touchscreen pen is also included along with an iPad mini case.

Recommended for:

Suitable for college students who can use the tab with the Apple Pen.
Those looking for superior build quality on a mini tablet.
It is also suitable for artists and designers.
Great productivity tool for students.

Fire HD 10 with Alexa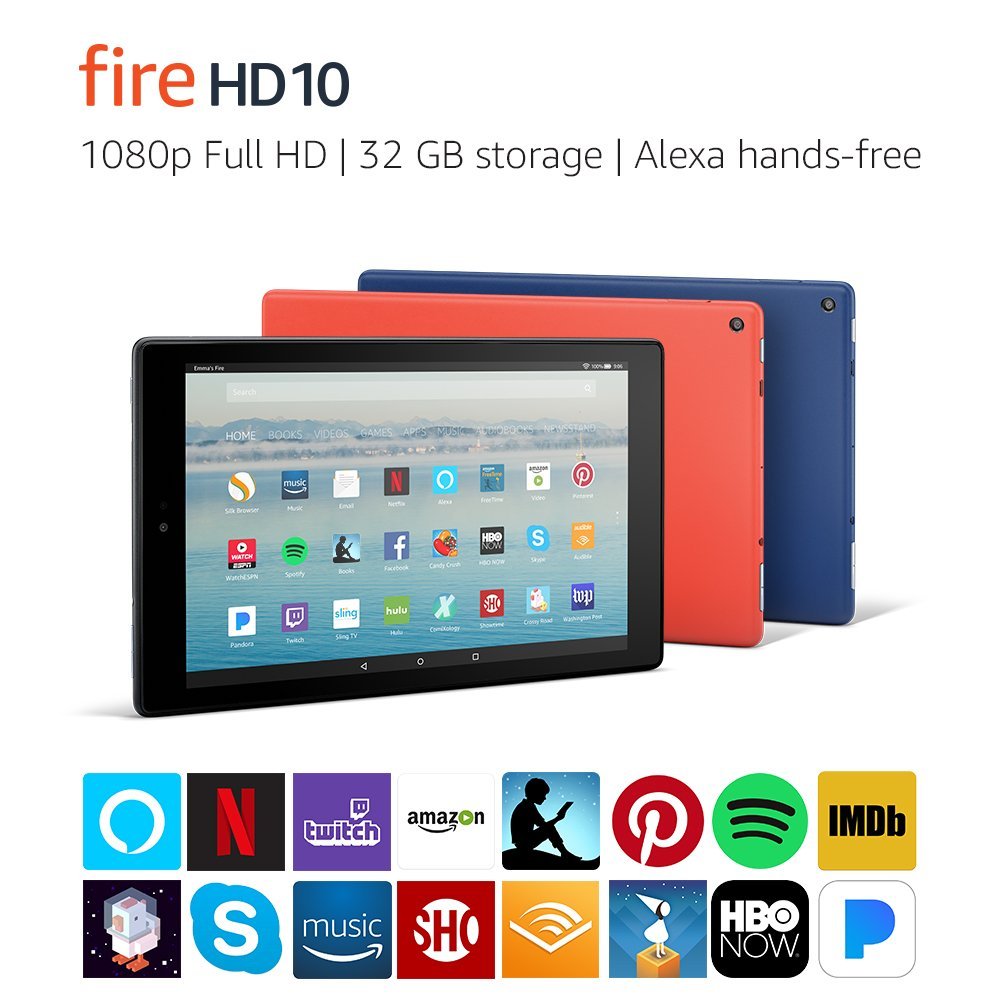 It is a widescreen tablet with an aspect ratio of 16:10 and a pixel screen resolution of 1080 (1920 x 1200) on the screen of 100 inches 10 Full HD. The display uses the IPS panel and comes with good viewing angles and bright colors.
It's not a conventional Android tablet, it uses Fire OS, which is a custom Android mask, which uses only the main blocks of Google's Android and replaces the rest with Amazon blocks.
Alexa is a great addition to the Fire HD 10. Another notable addition is Dolby Audio, which enhances speakers and offers good audio quality. The tab is powered by the MediaTek quad-core processor that operates at a speed of 1.8 GHz with a RAM of 2 GB. Internal storage is 32GB to 64GB, but there is also a MicroSD slot that allows storage to be increased up to 256 GB.
It has a 2 MP rear camera without flash along with a VGA unit for the front. The qualities of the photo are average. The battery life is around 10 hours, so you can get approximately 8 hours of video streaming.

Recommended for:

Ideal for college students who love Amazon content, you'll need Amazon Prime.
Good for streaming movies from Netflix or Amazon Prime Videos
Suitable for streaming text from Kindle and reading comfortably for long periods.
It's not right for you if you regularly use Google apps like Maps; Calendar; Google Play, as these are not available on it.
For college students who want an inexpensive and durable tablet to work and have fun.

Sony Xperia Z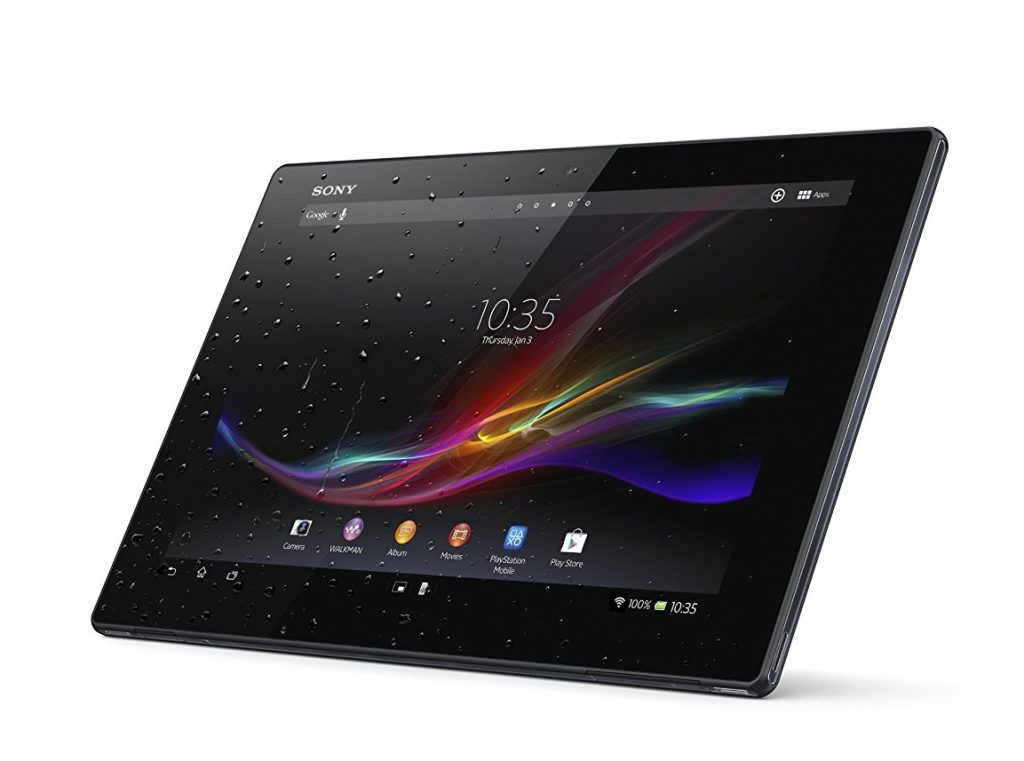 This is a very lightweight tablet with an excellent display and many innovative features. It looks great with a bright, scratch-resistant front. Most of the navigation will be done with the software buttons on the screen. It is one of the thinnest tablets available on the market with thickness of 6.9 mm or 0.27 inches. Other dimensions include 10.5 x 6.8 inches and its weight is 1.09 pounds. To add to this, it is also water and dust resistant.
The display is Full HD with a resolution of 1200 x 1920 pixels and a density of 224 ppi. It is also equipped with Sony's Mobile Bravia Engine, which offers vivid photos and videos. You can simply buy the 16GB model and then increase the storage to 64GB using the microSD card. The Sony Xperia Z is powered by a Qualcomm Snapdragon S4 chipset, with quad-core Krait at a speed of 1.5 GHz. This is combined with a 2 GB RAM. The hard drive memory is 16 GB and the battery life is approximately 9 hours.
As for the battery, it is powered by 6000 mAh with a micro USB connection charging port. The operating system is Android, but it is skinned with Sony overlay, although there is not much bloatware. In fact, applications like Polaris Office can be used by college students for notes. The keyboard is included and offers support for typing to the touch, as well as swiping from one key to another, guessing the words

Recommended for:

College students who want a super lightweight tablet with a beautiful screen and a great keyboard.
For those who want a beautiful and powerful tablet, it is also dust and water-resistant.

Google Pixel C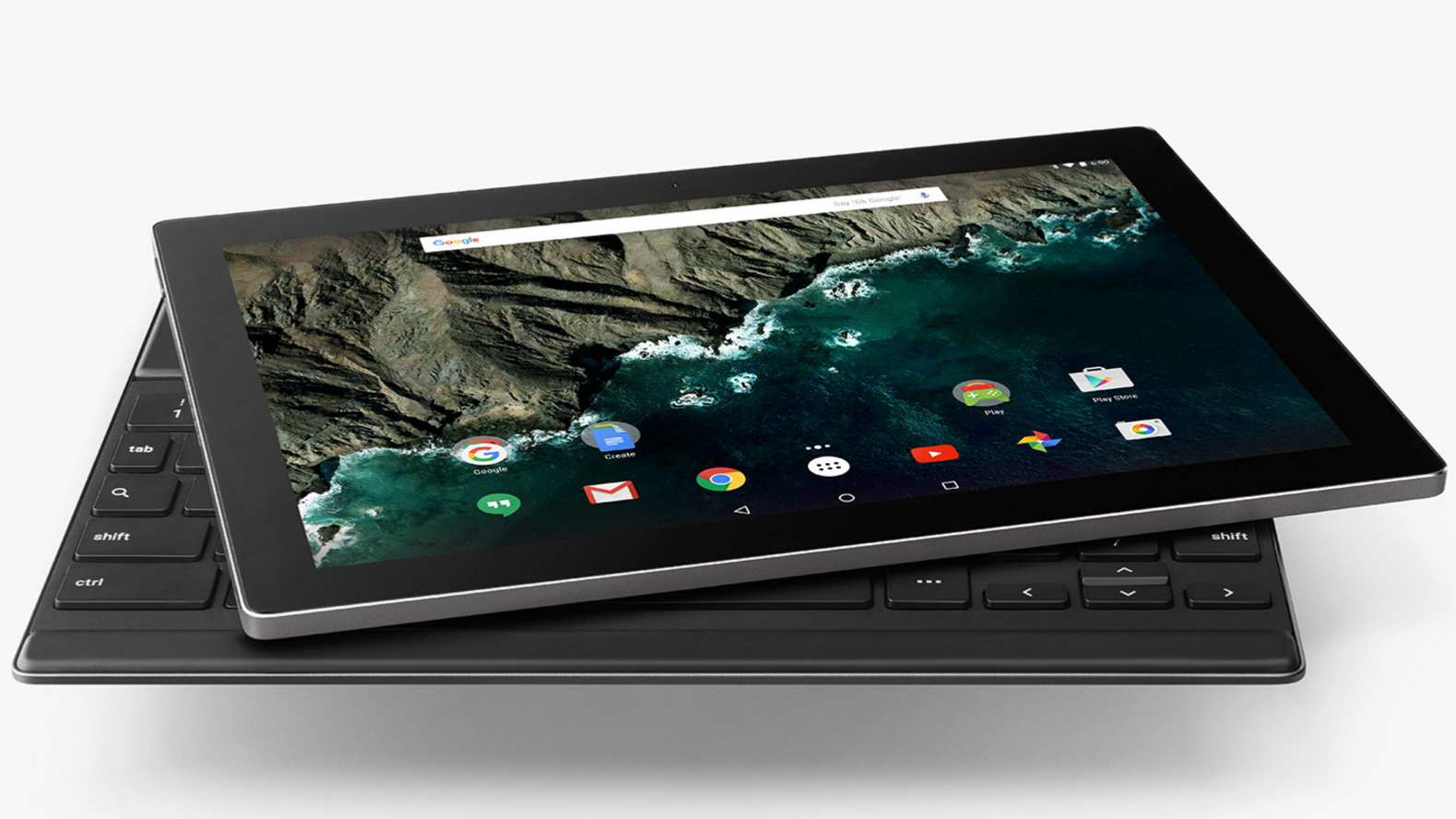 This can be considered as the best tablet for college students in terms of taking notes and working on multiple activities. It can be expensive. However, the variety of features would make you go further. The best features include its superlight and multifunctionality that makes it the best tablet always for students. Google Pixel C is compact and slim and can be very portable to carry from one class to another to take effective notes very easily. In addition to this, the tablet is also equipped with good sound quality, connectivity, battery life and can be a boon for passionate readers and music lovers.

Microsoft Surface Pro 4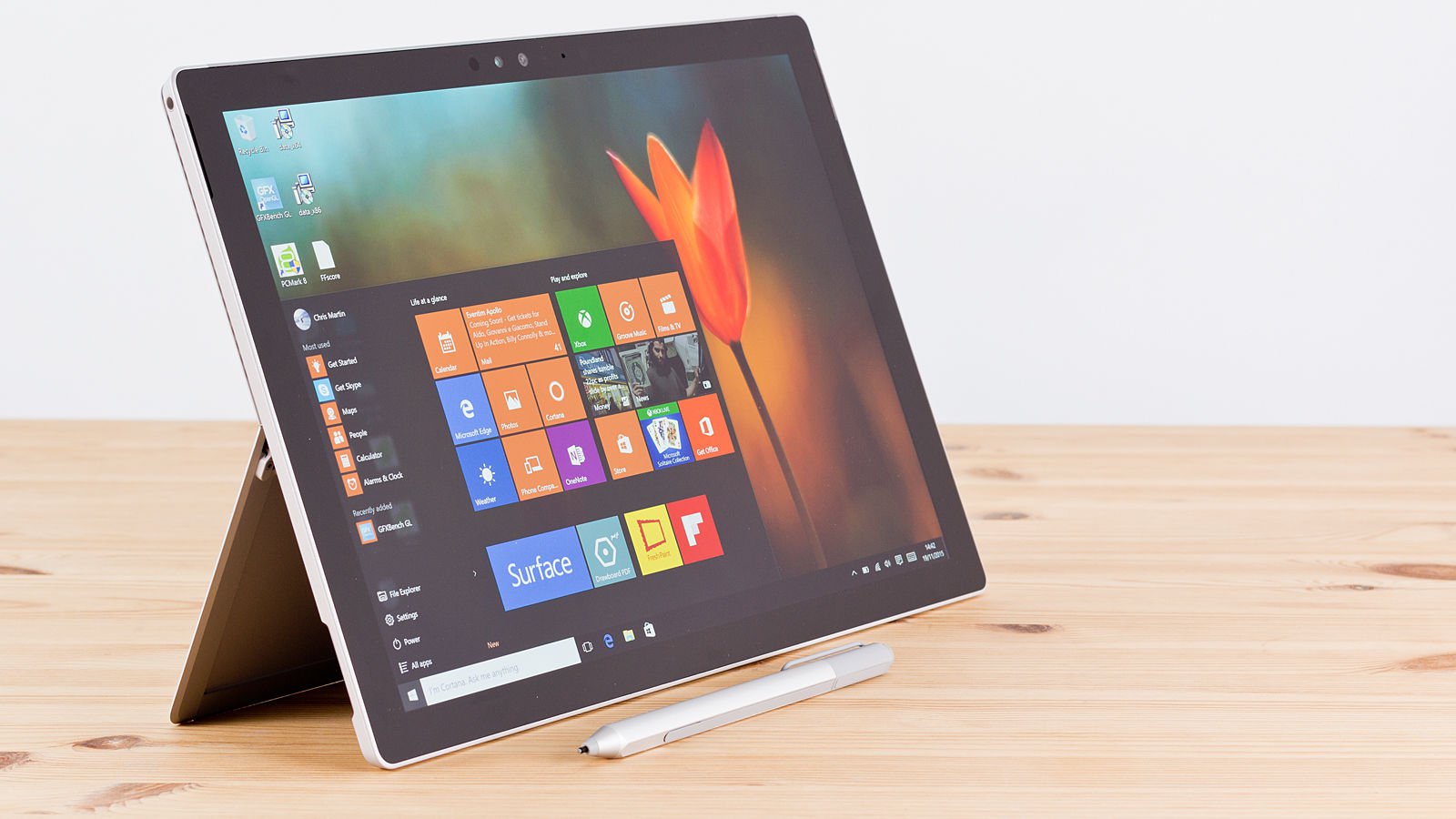 This is another great contender for the best tablet for college students. It can work well for textbooks in addition to the ease of drawing and drawing. The tablet features a large 12.3 inch screen that comes with low brightness and high contrast. This can be considered perfect for the eyes of young students who should sit and work on their tablets for longer periods. Battery life is also good and can last 9 hours on a stretch that is one of the main prerequisites for young academics. The Microsoft Surface Pro is the ideal tablet for college students, professionals and personal use.

Asus Transformer Book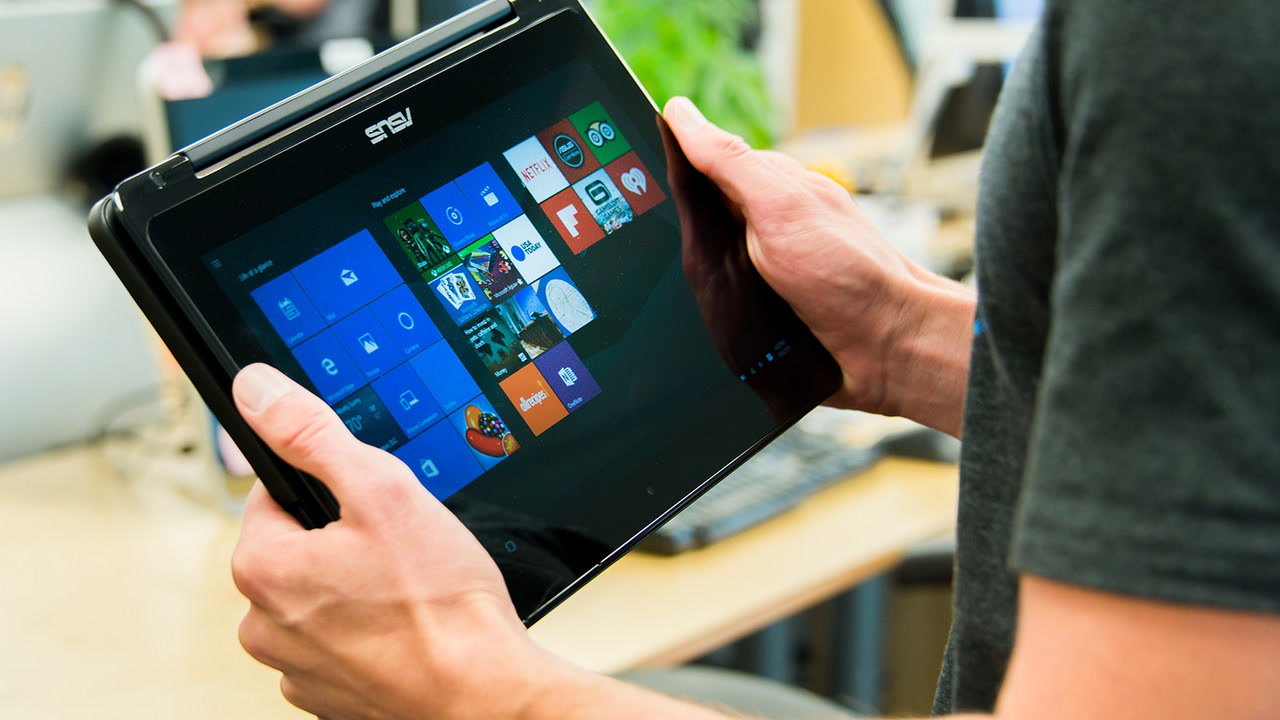 Wanna buy a student tablet but keep it classy and stylish? You can opt for the Asus Transformer Book Flip model. This tablet is elegant and affordable. This tablet model is a 2-in-1 laptop. Therefore, it works well as a laptop and a keyboard. Asus Transformer's model features Windows 10 and Bluetooth. It comes with a 4GB RAM and about 64GB of internal storage. This storage capacity is almost great for college students. Even the battery life is excellent around 11 hours taking into account the needs and requirements of students.

Acer Iconia Tab 10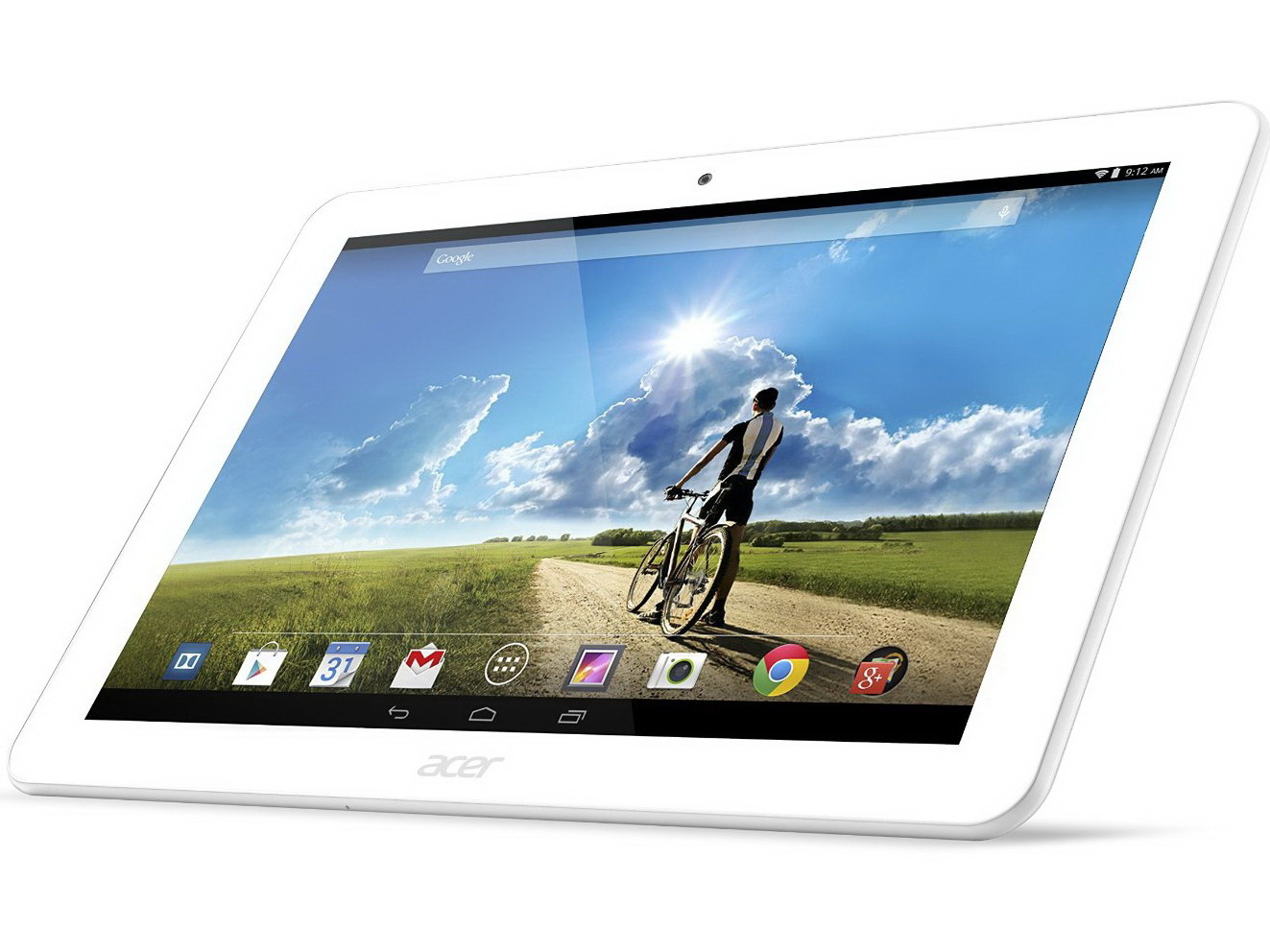 If you really are on a budget but hopelessly look for a reliable student tablet that you can use for studying or taking notes then this Acer tablet model si something you might want to consider. You can achieve almost anything on this tablet as you can on a laptop. There is a 2GB RAM and an 8-inch screen with soft and beautiful features. The battery life is also quite good. There is 16 GB of internal storage that can be expanded. However, depending on academic needs, 16 GB would be ideal for students.

Lenovo Yoga Tab 3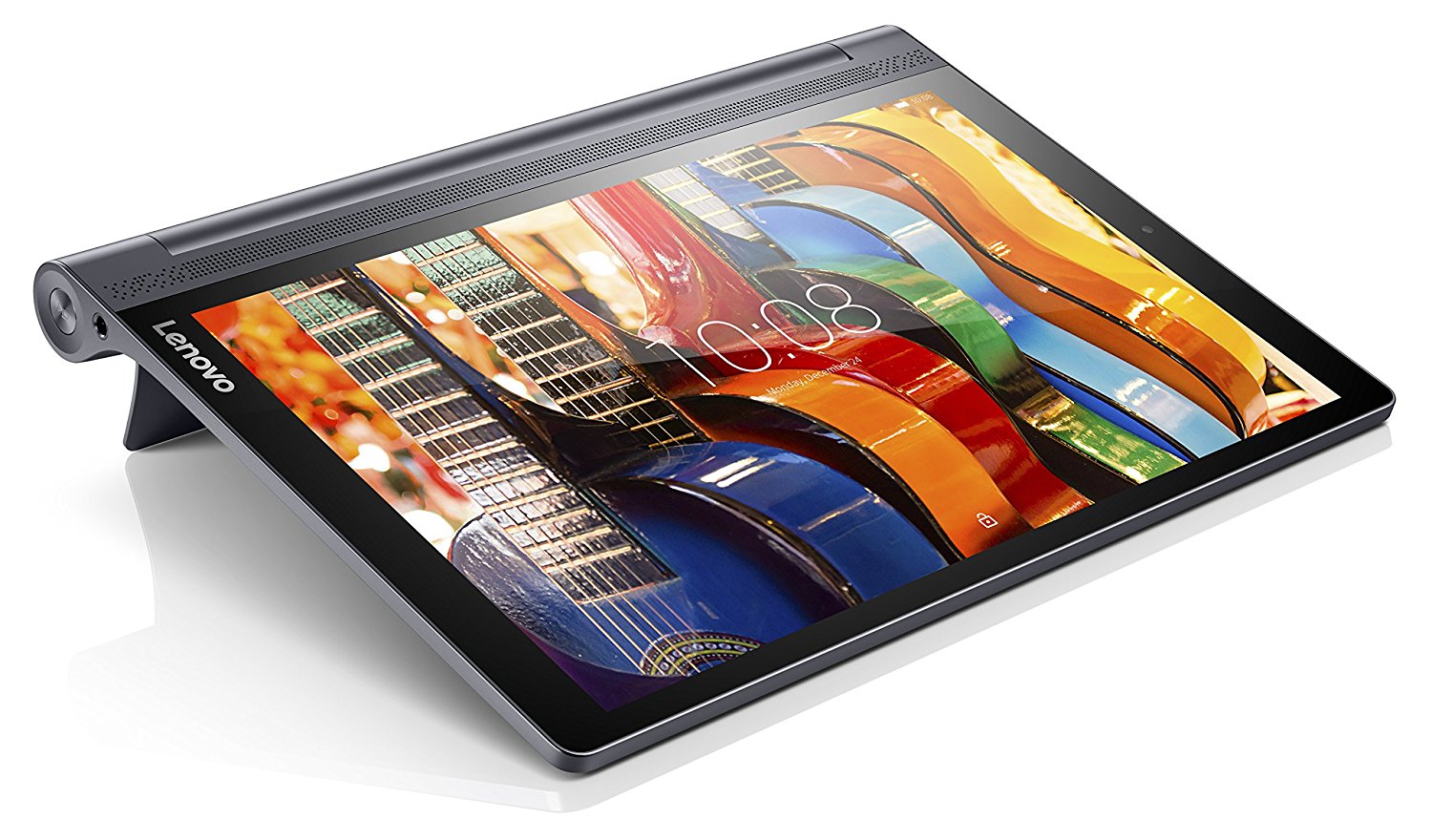 One of the most elegant and elegant designs of modern tablets for students is the Lenovo Yoga Tab 3. If you're a studio fan, this tablet can help you achieve just about anything. There is also a great element of fun as it offers versatile features for bright students. The tablet is super light and comes with an 8-inch screen. The tablet also includes a rotating camera that can make your photography session very fun and stimulating. In addition to this, the so-called "yoga" posture of the tablet can make you use it however you want. Therefore, students can be convinced of great portability with the Lenovo Yoga Tab 3 model.

Conclusion

When going through the best student tablet devices listed here in our articles, please do consider things like the battery life and tablet-compatible apps, along with the processing power of the device. Ultimately, when looking to but the best student tablet, you just need to find something lightweight, thin, compact, size-wise, and reliable, performance-wise, enabling you to be on the move without any hassle or extra effort on your hand.