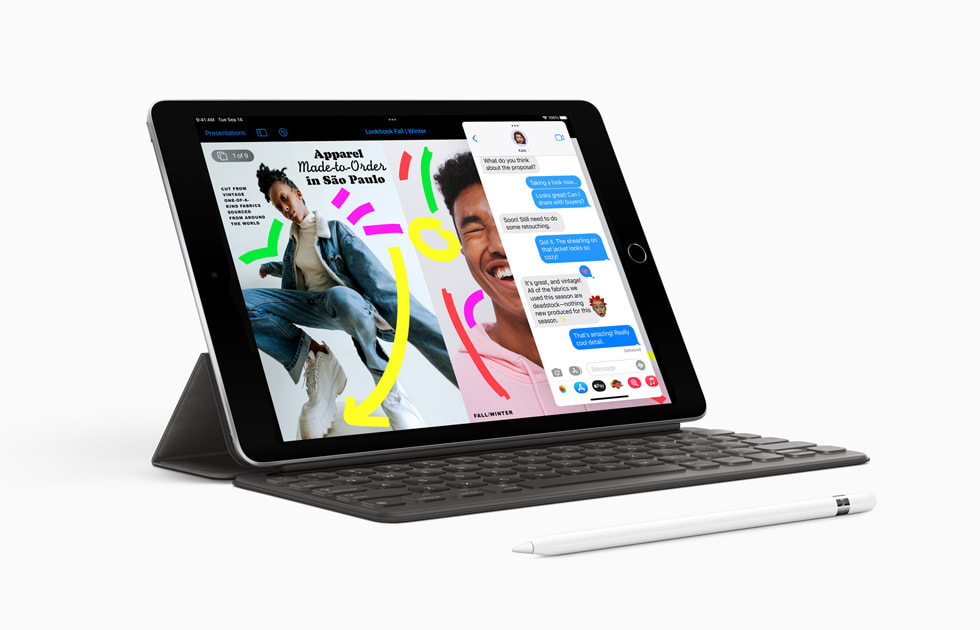 Apple's newest 9th generation iPad will be powered by the 2019's A13 Bionic chip which was first introduced in Apple's iPhone 11 line up and it's an absolute breeze for anyone trying to experience the best new features that iOS 15 has to offer. From better battery life to faster multi-tasking, the A-series processors have gone from strength-to-strength since their inception.
What's new:
Display
10.2-inch Retina display
2048 x 2732 pixel display True Tone technology
Camera
Ultra-wide 12-MP front camera
Center Stage technology
8-MP rear camera
Performance
Top-tier A13 CPU
20% performance boost
6x faster than Android
Compatibility
iOS 15
Apple Pencil (1st Generation)
Smart Keyboard
It will also make it much easier for users to try out Live Text, which has been a feature since iOS 15. In simple terms, anyone who finds themselves looking at text in any picture will likely find these magical words just a pinch away from being quickly shared with friends and family via iMessage or saved in drafts instead of being lost forever!
A Better Display
Apple is sticking with the same body when it comes to the iPad 9, with a 10.2-inch display situated on a 2048 x 2732 pixel display with True Tone technology for automatic white balance adjustment for ambient lighting is the most improvement the iPad 9 will get.
Same Design but Improved Camera
Aside from the brand new design that makes the iPad 9th gen lighter, thinner, and faster than any other competitor iPad on the market, it's also the first iPad model to support Apple's new Center Stage camera feature.
Now, if you haven't heard yet, center stage is a new technology developed by Apple, that gives your photos a whole new level of detail in terms of fine-tuning to match the desired style.
The front-facing camera is also upgraded to a 12MP while the rear is 8MP.
Fantastic Performance
When it comes to performance, core user activities like browsing social media, gaming, multitasking, emailing, taking photos and videos will get a significant boost of up to 20% in terms of both CPU and GPU speed as the A13 Bionic chip is plenty powerful and more than enough.
Conclusion
The perfect companion for every casual user, the iPad 9th generation is a powerful and compact device that will undoubtedly provide top-level performance and a satisfying user experience regardless of what you plan to use it for the most.