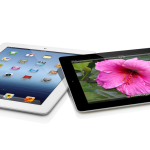 [Update 8th March. The new iPad 3 has been announced. A5 chip, 5MP camera, Retina display, 4G and WiFi. Delivery on March 16th 2012. Read more new iPad 3 announced ]
[Update – 3rd March 2012 – No tablet pc review yet! But it is expected that the iPad 3 will be announced on March 7th. There are rumours that the price of the iPad 2 will be cut very soon. Rumours are hotting up about the iPad 3 UK release date and what the iPad 3 will or won't be. As you can imagine, just about everything is complete guesswork, Apple keep things close to their chest.
A lot of debate is going on about the screen, the "Retina" quality screen is still talked about, and a res of 2048 x 1536 is still mentioned, however some think this would make the iPad 3 0.7mm thicker than the iPad 2. Also, some rumours suggest that screen manufactures are struggling to get a display of that result resolution manufactured. These rumours were in turn quashed as Reuters suggested that about 8 million panels of this resolution were to be shipped first quarter 2012.
The quad core use is pretty much certain as so many rumours surround this item.
HD Camera is still on the cards it seems, but no one is sure if it's 5MP or 8MP
NFC (Near Field Communications) a chip which enable wireless payments may be included. I can personally understand this on a mobile, as you'd have it in your pocket, but on something as big as an iPad? But then I also think a camera on a tablet is a little bit odd – what do I know, it depends how you use it!
But when will the iPad 2 be released ? Well, again, there's a romantic rumour that it will be released on Steve Job's birthday : February 24th, however, most think early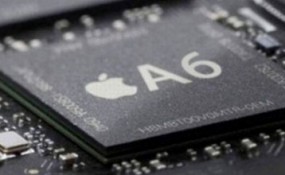 March.
Whats the iPad 3 release date in UK? Who knows, Apple have been pretty good an getting things released globally quite quickly, unlike Amazon! Having said that, it is possible the Kindle Fire and iPad 3 get released at about the same time in the UK, that would be fun..
The above update source: TabTimes
[Update – 6th Jan 2012 – The latest rumours suggest the iPad 3 will be release in March 2012 or possibly as early as February. As we reported sometime back the rumours are still about a 2048 x 1536 screen and an A6 processor]
Do I know when the iPad 3 UK release date is? This is my page about any iPad 3 rumours I here and I'll also announce the ipad 3 UK release date as soon as I hear it.
International Business Times are reporting that there are reports that the iPad 3 could have an incredible doubled resolution of 2048 x 1536 pixels, have a quad core A6 chip and be thinner and lighter. I for one would be tempted if the screen res was doubled. I have an original iPad but flatly refused to "upgrade" to the iPad 2 as I thought it didn't offer enough for me to shell out again. If I hadn't had the original, I would have bought an iPad 2
As far as the iPad 3 UK release date is concerned I have no real information to share. There we rumours that it would be released in September 2011, obviously they were unfounded. I think many people were of the opinion that some sort of half-way-house ipad would be released, like Apple have done with the new iPhone 4, not real stop press additions.
Back in June people were saying the iPad 3 would be with us before Christmas 2011, yeah right! I'd rather they held off and bought us some real improvements, rather than just an obvious ploy to get those who like everything Apple to buy something that isn't really worth the trouble, especially for existing Apple owners.
Some bright spark even has a website solely for the uk release date of the iPad 3 (no it's not me)
What about 3D? Will Apple consider offering a 3D version? I'd have thought after all the press about Nintendo's 3D offer, of people feeling sick and getting headaches, maybe they'll wait a while, I'm not even sure there's a market for it. In any case I don't think Apple consider the iPad as a games machines.

 Well, the rumour mill is still running at full strength. the latest is that the iPad 3 will have an HD retina screen and now there could also to an iPad 2 S. The latest release date rumour is March 2012, so we might not have too long to wait. The Retina screen might make me brave enough to suggest to my "significant other" that the time is right for me to replace my existing tablet pc. I think I might have to come up with more justification though, come on Apple, help me out here! So, maybe Apple will keep the iPad 2 going alongside the iPad 3. I think they'll also add Siri to the Pad 3, having said that it would need a faster processor, or so Apple would have us believe.