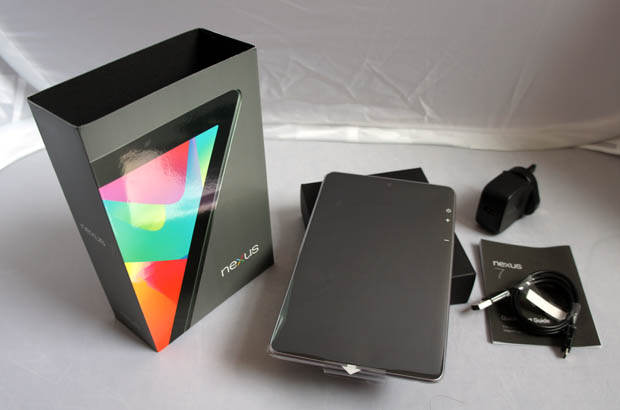 EAT has the tasty new Google Nexus 7 with that sweet, sweet Jelly Bean Android 4.1 filling. For a £159 this represents the best-quality tablet at this price range and the best 7-inch tablet on the market. We'll be filling out this review as we go along but out initial impressions are of a quality device that feels slicker even than the Apple iPad 2 to use.
The tweaks in Android 4.1 Jelly Bean are subtle but make a real difference. Scrolling is instant without any drag while the new Notification panel adds a ton of extra welcome detail to individual items. EAT will run comprehensive battery tests but initial run times setting up the Google Nexus 7 seem to indicate that the 7+ hours of streaming playback shouldn't be a problem for the device.
In fact under testing we got 8 hours of streaming MP4 playback at full screen brightness. So under normal conditions you'd expect longer than that as the screen is the primary power drain.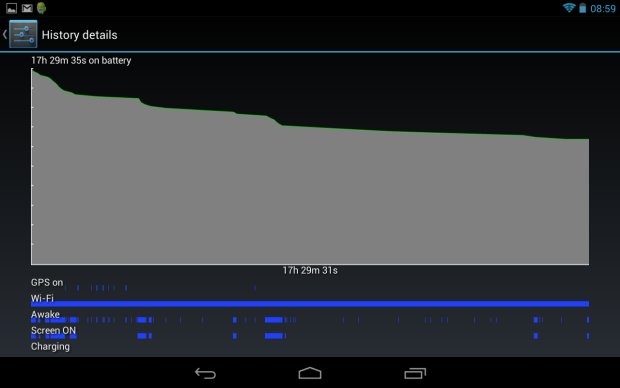 Speed wise I doubt we'll see the best out of the newish Nvidia Tegra 3 processor for a while, as more apps become quad-core optimised. However, even at this point Android 4.1 Jelly Bean feels divine to use and the SunSpider results of 1730ms puts this tablet as fast as anything else on the market. With Geekbench 2 score of 1475 puts this alongside the ASUS Transform Prime and the Samsung Galaxy S III.
It's computationally far faster than the Apple iPad 2 and New iPad but not in the GPU department. We've finally run GLBenchmark 2.1 on the Nexus 7 and as you can see in the results below the Nexus 7 impressively keeps right up with the far more expensive but similarly equipped Transformer TF201. In "real world" tests it also slips 12 percent to the Apple iPad, it's only with off-screen testing where the Apple GPU can get in its stride, but those results are functionally meaningless.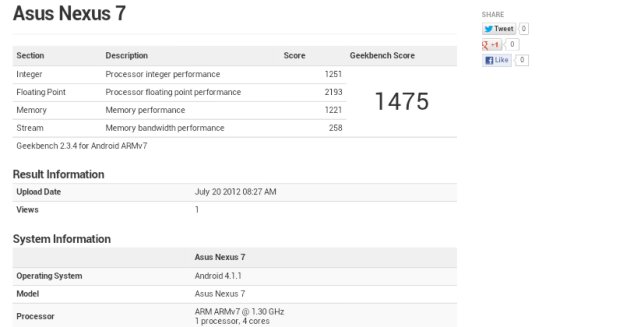 Gripes?
We a have a few. The home screen has been orientation locked by Google, we find this infuriating as we like to use most apps in the landscape mode. So you're constantly having to physically rotate the device rather the screen doing the work for you; one of the stupidest design moves we've ever seen.This extends to the lockscreen that you also have to manually rotate the entire device to the correct orientation, which is utter nonsense.
UPDATE: We're glad to say the recent Android 4.1.2 update has addressed these landscape mode issues. So the home screen and lockscreen now all auto-rotate to the orientation of the device.
Should we mention there's no rear camera? We're not so bothered, but on such a portable device it could be useful and many bar-code scanners expect to have one.
The position of the volume and power buttons on the angled side are also highly annoying and we find them very tricky to use, in a similar way the buttons on the iPad 2 are. While it also seems to take an age to charge this bad boy both with the supplied charger and any standard ones.
No 5GHz networking is also a missing feature. Not such a big thing now, though the Apple iPad 2 and 3 both have it but it could be an issue in a couple of years.
Another usage gripe that will sort itself out is a combination of Adobe dropping Flash support for Android 4.1 Jelly Bean devices. Suddenly any services that require this won't be available on your new shiny device. Similarly a number of apps via the Google Play Store are listed as unsupported, but we've got the home-brew solution for that now.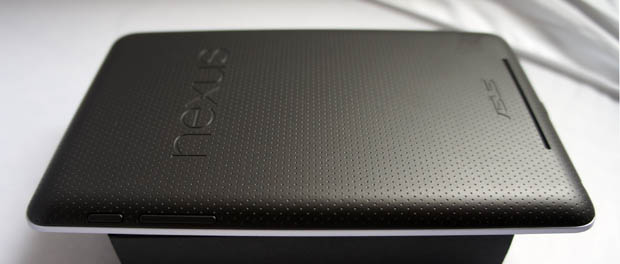 So who is the Google Nexus 7 for? Has Google been spooked by Microsoft Surface? Has it had enough of terrible low-cost Android tablets? In many ways a physical tablet is just a logical extension of Google's development of Android and purchase of Motorola and puts a challenger to the Amazon Kindle Fire. All we're lacking now is an Apple competitor in the 7-inch range but currently this is by far the most accomplished small form-factor tablet money can buy.
Name: Google Nexus 7 | Type: 7-inch Android tablet | Price: 8GB £159, 16GB £199
Score: 5/5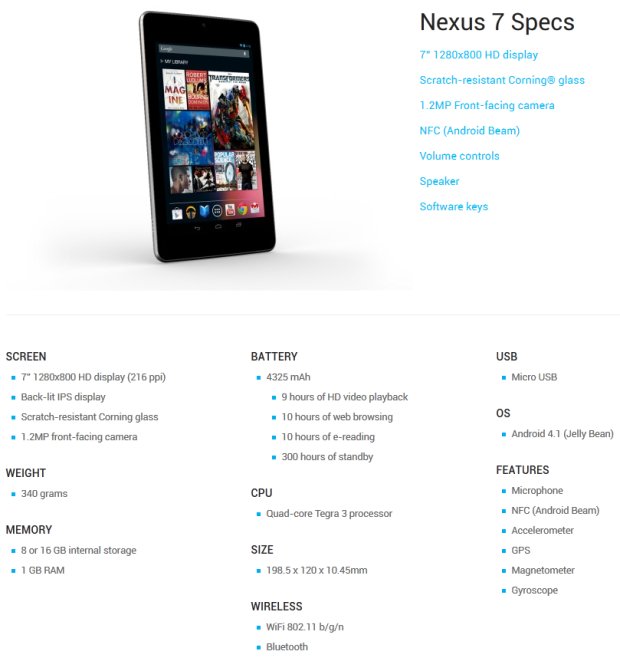 Related Posts: