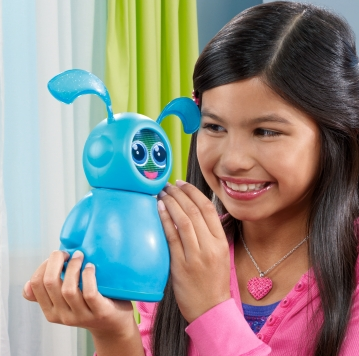 Fijit Friends Interact with the iPad
iPad friendly Fijit Friends have arrived just in time for Christmas 2011. These squishy, foot high robot toys chirp, dance, talk, and even interact with the the iPhone and iPad tablet. These alien-like interactive toys respond to your child's touch. They are full of delightful surprises, as they giggle, talk and their eyes when light up. This hot new toy will certainly appeal to adults as much as tweens. Fijits resemble dancing alien dolls.
Poke and squeeze your Fijit toy to enables lifelike movements
Fijit Friends can respond with more than 150 built-in phrases and jokes
This robot toy recognizes different types of music, beats and can perform different dance moves
The Fijit toy boasts voice recognition, beat detection capabilities, and includes her own original songs too
Fijit Friends App
The Fijit Friends App enables this tablet friendly robot to interact with the iPad and iPod. This robot toy has has voice recognition, responds to over 30 commands, build-in more than 150 jokes and phrases, beat detection, recognition of different music types, performing different dance moves and original songs of her own. Fijit friends detect and react to media platforms like mobile applications, tv commercials or webisodes. And yes, there's an app for that!
The Fijit Friends iPad app will be a fun way for children to interact and play. Features of the Fijit Friends iPad apps will be posted here when kid's robot app is released!
There are four Fijit friend dolls. These cute robot toys come in four vibrant colors; purple, green, pink and blue. Each robot has their own name and their own unique personality and will interact with your child in different ways.
Serafina – Serafina is the Sweetie Pie Fijit Friend in pink
Willa – Willa is the Trend Setting Fijit Friend in purple
Logan – Logan is the the Sporty Fijit Friend in blue
Sage – Sage is the Adventurous Fijit Friend in green
Each robot toy has their own color, unique voice and removable ears. Interactive toys will be one of the hottest toys this year, especially for birthday or Christmas gifts. Fijit Friends toys, are a great idea for your Christmas toys 2011.
Fijit friends interactive toy is available on Amazon and yes, there is an iPad app that will complement Fijit Friends interactive toys!