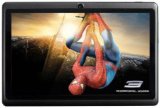 Cheap Tablet PC – Are they worth the money?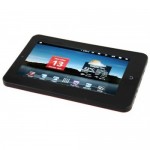 Most tablet pc review sites ignore the cheap tablet pc. I wondered why that was, are they all rubbish? They may well be cheap, but are they worth the money, are they any good? If you read Amazon's customer reviews you would certainly think they are worth a try. Many get very good customer reviews, I always think people are more inclined to write bad things about something, as they're normally upset and disappointed with their purchase, and want the world to know, quite right too. However, when many people say good things about a "not so expensive" tablet pc, surely it's worth looking into a bit further, right? Damn right it is!
You've probably looked around some other websites offering information and advice on tablet pcs, and no doubt most of them don't even talk about the cheap tablet pc. Those that do, and I've read articles myself, absolutely slam cheap devices, but why would they? One of the largest US based tablet pc review sites actually says that they generally ignore such devices. Well, that's nice. Why not do a review and tell everyone their downsides? I'll tell you about the budget end of the market, as well as the top end. Not everyone can afford an iPad, not everyone wants to spend 500 quid on a piece of technology. All readers are intelligent enough to know that if you spend £70 it won't necessarily be a good, or have as many features as a £500. But then the word "good" is subjective, you might think a £70 one is good, whether it's good or not depends on whether it meets your requirements.
Here's what a large tablet site says about cheap tablet pc…
<QUOTE>…They typically cost less than the brand name alternatives, but that's usually because they are awful by comparison, with dull and unresponsive displays, underpowered processors, and lousy designs. Many run Android Gingerbread, which was designed for smartphones, and almost none of them have the stock Googleapps and access to the Google Android Market.
The team at xxxx typically ignores such devices, but every so often we like to check in on the budget Android tablet market to see what the knockoff makers are offering. 
</QUOTE>
Ouch! Knockoff makers? So, why would anyone be so anti a cheap tablet pc? Here's my thinking on the subject of a website ignoring a cheap tablet pc. If I were a Rolls Royce dealer, I'd not want you to buy a KIA. A Kia might well suit your needs, but I'd probably say, as a RR dealer that Kia's are inferior and I'd justify why RR are more expensive. At this point I'll own up to owning an iPad, and I do think they're very good, and for me, worth every penny. That doesn't mean I don't see the value of a cheap tablet pc. You might have £500 budget for a tablet, but you might not buy an iPad. Another reason some websites shy away from even mentioned a cheap table pc is this: review websites generate some of their income through affiliate marketing (including this one). What this entails is writing a review of a product and putting a website link, to say, Amazon's website. You click on the link to have a look, if you like the Amazon product, you might buy it. If you purchase it from the review websites link, they get commission on the purchases you make. Doesn't cost you a penny and it pays some of the costs of running the review site. Everyone's happy. or are they? Well, in the most part, yes. As long as you're getting a balanced review. If you purchase a cheap tablet pc using a link from a review site, it will be cheaper, so will cost you less money. Do you see where I'm going with this? If you buy an iPad the review site gets more commission, if you buy a cheap one, they get less. Maybe a good reason for ignoring a cheap tablet pc? Or even giving the most expensive tablet pc in the world a great review? I'm suggesting nothing, all I can say is that I don't do it.
I'll always tell it like it is with cheap android tablets. Pretty much all "value" tablets run Android. I don't personally check or use every one, but I feel its very useful to bring them to people's attention and also use my experience to point out the downside, for instance the ARM A10 Processor confusion is a good example.
Anyway, rant over, back to the cheaper side of life, for those of use who don't get given expensive tablet pcs to play with. A top of the range tablet pc can cost in access of £500, yet you can get a cheap tablet pc for £70. How's that? Surely the £500 one can't be that much better than a £70 one?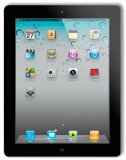 Apple iPad 2 Wi-Fi + 3G – Tablet – 64 GB – 9.7″ IPS ( 1024 x 768 ) – rear cam…Click to View Product Details£589.99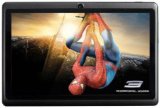 M009S 4gb Black Allwinner A13 Android Tablet PC WiFiClick to View Product Details£49.99
Maybe we could liken it to buying a pair of boots. Some people have to have a £200 pair of Ugg boots, whilst others wouldn't dream of spending that much. They are both basically the same thing, one cheap, one not, they do the same job, so why would someone pay over £150 more for one item over the other? OK, I appreciate the boot analogy doesn't work on all levels, but you get the idea, people do pay different prices for things that do the same job, no doubt you could think of a better analogy. Of course, people consider a lot of things, not least fashion, some products are "in" whilst others are so last year. Some people buy and iPad, because it reflects their lifestyle, others maybe need a tablet pc for their job and are meeting clients so they need to project a certain image, a cheap tablet pc might not reflect the image they are trying to project. Of course given the choice between a £500 one and a £70 one, most people would choose the expensive one, if it wasn't your own money…
If you're in the market for a cheap tablet pc budget is probably top of you list, therefore you're looking for value for money, not just the cheapest tablet available. You need it to run apps, and you'd like to have enough choice. On the subject of apps, make sure you check that the tablet supports Android Market  (Android's Apps store) it seems hard to believe, but some don't!
What do you need it to do?
The chances are you'll need your cheapest android tablet pc to perform the following tasks and perform them to a reasonable, usable level.
Surf the internet
Read and send emails
Have a calendar function
Play games
Use productivity apps (such as reminder, diary, notepad etc)
Read Books
Social Media websites (such as Twitter, Facebook
Watch movies
Play music
Take photos
That's just a list of 10 things I could think of off the top of my head, you may well need to do much more with it. So, why is it important to know exactly what you'd need your tablet pc to do? Well, here's the thing, a cheap tablet pc will reach it's limits much quicker, by that I mean it will run out of memory and the processor will start to struggle much quicker than a more expensive model due to the fact that the more expensive models have a faster processor and more memory (which is why in the main, they are more expensive). I will no doubt mention this a few times in this article, but; tablet pcs, for the most part, can't be upgraded. They are not like a desktop PC where you might be able to upgrade the processor, add a bigger screen or indeed increase the memory. On most Android tablets you can increase the storage you have, more on this later.
Do you get what you pay for with a cheap tablet pc?
This is a true statement for a lot of things in life; you get what you pay for. Undoubtedly at this end of the market you do get what you pay for. However, is it true at the other end of the market, do you get what you pay for when buying a £500 tablet pc? It is of course a matter of opinion. The thing to bear in mind is that you are not buying the equivalent to an iPad when you spend less than £200 on a tablet pc. In that way you're not getting a bargain as such. It is definitely not like paying £20 for a £200 pair of UGG boots..!
Let's compare a best selling cheap tablet pc which the best selling "expensive" one. Oh, just a note here, I use the words "cheap" and "expensive" just as a way of differentiating the two, I don't personally think these tablets are either "cheap" or "expensive" as both offer great value for money in my opinion.
Undoubtedly manufacturers of the more expensive tablet pcs have bigger profit margins.
Here's a chart supplied by www.reviewtabletpc.co.uk you'll see a number of tablet PC's. If you have a look at the first column, the iPad 2 and compare it to the last column, the Tabtech M009s (now called the NATPC M009s) you can see the specification differences. For reference the Ipad 2 is around £500 whereas the Tabtech (NATPC)
M009S 4gb Black…Overall Rating:

List Price:Sale Price: £49.99
is about £70. The main differences are processor speed, battery life, memory and camera.
iPad 2
Xoom
Flyer
Vector G7
Galaxy Tab 10.1
Tabtech M009s
Buy
General
OS
iOS 4.3
Android 3.1
Android 2.3
Android 2.3
Android 3.1
Android 2.2
Processor
1 Ghz
1.2Ghz
1.5Ghz
1Ghz
1Ghz
0.8Ghz
Memory
512MB
1GB
1GB
512MB
1GB
250MB
Storage
32 / 64GB
up to 32GB
16 – 32GB
16GB
16/32GB
Up t o16GB
Camera
Front 0.7 Rear 0.92
1.3MP Front 5MP Rear
Front 1.5MP Rear 5MP
2.0MP
Front 2MP Rear 3MP
0.3MP
Battery Life
10 hours
10 hours
4 hours
10 hours
7 hours
2 hours
Screen
Size
9.7
10.1
10.1
Resolution
1024 x 768
1280 x 800
1024 x 600
800 x 480
1280 x 800
800 x 480
Type
Capacitive
Capacitive
Capacitive
Capacitive
Capacitive
Resistive
Dimensions
Height
241mm
249.1mm
195mm
197mm
260mm
199mm
Width
186mm
167.8mm
122mm
124mm
175mm
128mm
Depth
8.8mm
12.9mm
13mm
13mm
8.6mm
15mm
Weight
601g
730g
420g
600g
570g
549g
Ports
USB Port
SD Card
Connectivity
3G – 4G
WIFI
Tech Specs Explained
Many of the items above might not make a lot of sense to you. Why would you need a faster processor? Why do I need more memory or storage? What do I use ports for and what the heck is WiFi? Many of these questions are answered on this very website. You might like to start at my tablet pc beginners guide and I'll explain the basics. I have articles on processorsoperating systems and touch screens these will certainly help beginners.
What will be missing or lacking?
This is where you have to compromise. You might not need the latest, fastest tablet pc, but then again, you might. What a cheap tablet pc might not be able to do is surf the web fast enough, or run you favourite game as fast as you'd like. This is down to processor speed and memory (not storage). Something you need to think about is what support you'll get after any purchase. Apple's support is legendary, if you have problems with you Ipad 2 then you have Apple to back you up, on the phone or getting it repaired. A cheap tablet pc won't have that kind of backup, this might not bother you, but it's something you shouldn't automatically assume.
A cheap tablet pc might have a resistive screen, this works differently to a capacitive one, and might not suit your needs, again, just something you need to be aware of.
Conclusions
A cheap tablet pc can offer great value for money. I'm not suggesting it will meet you needs, nor that every one is good value for money. My advice is normally this; if you have experience of an iPad, Xoom, Galaxy Tab or Playbook for example, they might come as a bit of a shock. However, if you're new to the market, or indeed think that the more expensive tablet just offer you too much that you want need, they can be an extraordinary good purchase. Especially good for kids, no point in shelling out £500 for it to break or be dropped down the stairs after 2 months. Spend 70 quid and if it breaks buy another!
The less you pay, the less of a tablet pc you're getting, that's common sense. You don't need a Ferrari to do the grocery shopping in, you might not need a £500 tablet pc.
Chinese Imports
Some people are happy to take the plunge and import themselves from China, you can get seemingly good deals on Android 4.0 tablets at the moment. Do check out my cheap Android 4.0 Tablets article first though. You get a good range of cheap table pc in China, beware though, don't be too surprised if you see things like the Iped or even iPud. Ok, I made those names up, but there is an ePad, so just make sure you know what you're getting before parting with your cash.