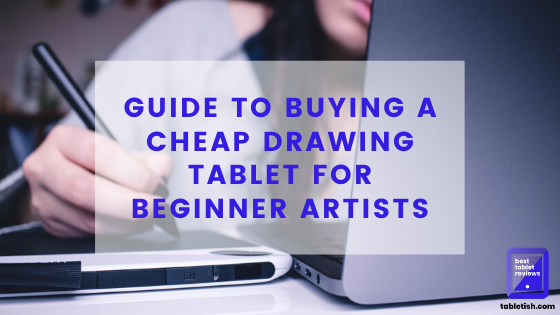 If you are an artist, then, I believe, you enjoy drawing. At least when clients don't bombard you with their silly demands and fantasies like you're a wizard holding a magic stick in your hand, granting wishes in a whim.
Even if you do your thing in the traditional way of pen and paper, at some point, you might have considered dipping your toes into the world of digital art with the help of a drawing tablet. Using a drawing tablet has a lot of benefits and after you adapt to the new setup, I believe it's going to improve your artwork and open a world of possibilities to you.
Why buy a cheap drawing tablet?
So, thinking about getting into digital art? Or even just start drawing and develop your art skills with the help of a digital medium instead of the good-ole pen and paper?
Well, you just want to test the waters first, instead of diving in. So, for that particular matter, you should consider buying a cheap drawing tablet. Yes, a cheap one. But a good one. You might think that "cheap" and "good" don't go well together, but the list of tablets we've compiled in this article is going to prove you wrong.
I believe you are going to find the best cheap drawing tablet that suits your needs right here in this article if you follow along. Budget wise, you can even find a cheap tablet under 50 dollars.
Which cheap drawing tablet should I pick?
A cheap drawing tablet is, in most cases, targeted at beginner users due to the more affordable price. Of course, the cheap basic graphics tablet models are easier to get into because they offer a basic set of functions that are more than enough for beginners and art enthusiasts.
By the leading companies in the digital art industry, In this article, we're going to showcase quality low budget, entry models manufactured by the leading brands in the digital art industry, like Wacom, Huion, and XP Pen among others.
A quick look at the tablets we're going to cover in this article:
[table id=1 /]
Any cheap drawing tablet on this list can pretty much cover all your essentials when it comes to drawing and in return offer great value for money.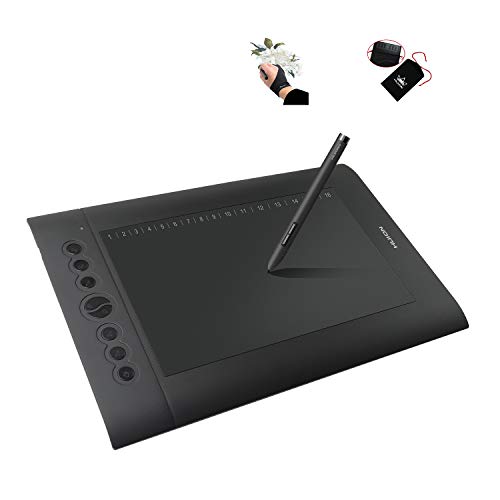 When it comes to artists on a limited budget, well, the Huion H610 is a prime contender when on your purchasing endeavors to find a cheap drawing tablet. It boasts 8 express keys and an active area big enough for every aspiring beginner or intermediate art enthusiast. The surface itself very much resembles the feeling of a paper.
The stylus' pressure sensitivity of 8192 levels is more than welcome to users who strive to produce fine and accurate line work in their pieces. And the most spectacular aspect of this drawing tablet is the price. Check it out on Amazon.
This model is compatible with all current software suitable for digital art and even with Windows 7 and Mac OS version 10 and above.
Pros

Extra affordable price
Big active area
The stylus offers a phenomenal pressure sensitivity and accuracy
Cons

Not the most ergonomic design when you need to support your hand on the device while drawing
No wireless connectivity option
Wacom Intuos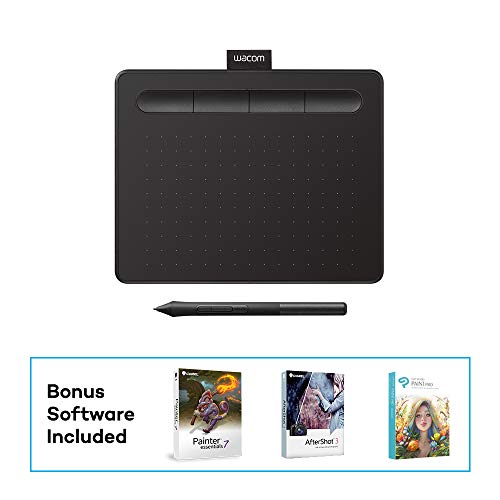 When it comes to cheap drawing tablets, the Wacom Intuos graphics tablet is the best pick regarding build quality. After all, Wacom are the leading brand in graphics tablets and a synonym when it comes to digital art.
You can do just about anything with this tablet. Drawing, photo-editing, painting, sculpting in a 3D software, you name it. Easy to use, with a great stylus that offers 4096 levels of pressure sensitivity and works without any battery or charging. You have 4 express keys which you can map with your favorite shortcuts to customize your workflow.
You also have bonus software included: Corel Painter Essentials 7, Coral Aftershot 3, and Clip Studio Paint Pro.

Pros

Quality graphics tablet coming from the leader in the industry
Bang for the buck
Portable due to its small size
Cons

The size can feel restrictive at first
The stylus has no tilt pressure sensitivity
Veikk A30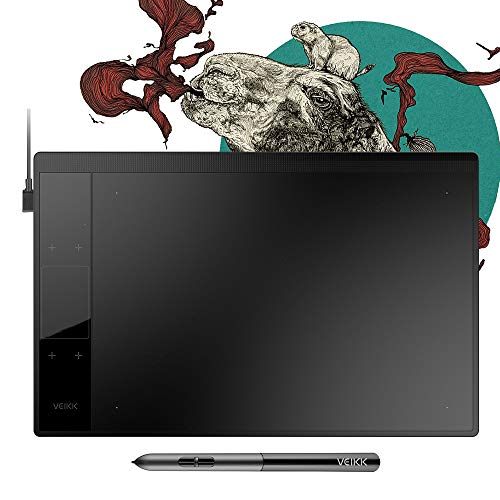 The next one on our list of pretty affordable and cheap drawing tablets is the Veikk A30 coming from the Chinese company Veikk.
Hands down, this is ultimately the best cheap drawing tablet for beginners.
This tablet offers a unique and innovative feature, not present on any other cheap graphics tablet we have on this list so far, and that feature alone with its surprisingly accurate battery-free stylus of 8192 levels of pressure sensitivity make it a worthy pick for any beginner artist.
Now, the feature mentioned is the gesture touchpad area located near the left edge of the tablet, alongside the 4 express keys, where you can utilize it in the most creative ways to customize and speed up your workflow.
Pros
Sizeable active area for drawing
Lightweight build
Fantastic pressure sensitivity
The gesture touchpad is such a great addition
Great affordable price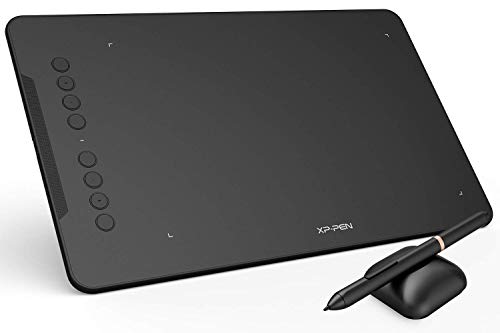 the XP PEN Deco 01 is another cheap drawing tablet that you can find at a great price on Amazon. As with some of the other tablets on this list, the stylus has 8192 levels of pressure sensitivity which enables you to draw with utmost precision. The stylus also has a stand.
Eight express keys are more than enough to set your favorite shortcuts regarding the software you are going to use.
Compatible with all the major design had photo editing software like Illustrator, Photoshop, Corel Draw, Paint Tool Sai, and older operating system versions like Windows version 7 and Mac version 10.10 and above.
Pros

Thanks to the 8192 levels of sensitivity the pen feels great when drawing
Extremely easy to set it up and start drawing
8 express keys big customizability
Cons

Occasional driver hiccups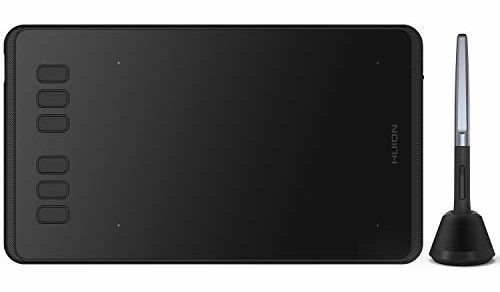 The Huion Inspiroy H640P is another great tablet at a very affordable price that offers a very useful feature and like the Veikk A30, it stands out from the competition due to that.
So, this cheap drawing tablet while being a great bang for the buck option with its large active area for drawing and the standard 8192 levels of pressure sensitivity stylus, it offers android device compatibility. Yes, you've heard that right.
Not only you can connect the Huion Inspiroy H640P to your laptop or desktop computer, but you can also connect it to your android phone or tablet. While iOS and iPad OS devices are not supported, you can still hook this bad boy on your  Mac but you'll probably have to buy a converter as this drawing tablet only has a micro connection USB port, which is one of its biggest drawbacks.
Useful innovative feature which is more than just a gimmick
Durable build
High-pressure sensitivity stylus that requires no batteries is always a big plus
Cons

Connectivity only via a Micro USB port
eSYNiC A4 LED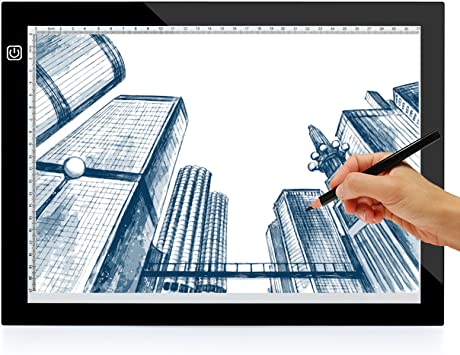 This is the eSYNiC A4 LDE cheap drawing tablet from the company with the same name (eSYNiC) which is probably the cheapest tablet on this list.

It has three different types of light classified in intense, ordinary and dark category, which can be adjusted by means of a contact button. The screen is acrylic, has a glass panel-like feel, although it is more resistant. The table size is 26 cm long, 35 cm wide and 8 mm thick, making it an ideal model for art, design, drawing and tattooing professionals.
The table is bright, thanks to the use of Advance LED Technology. Besides, it has an elegant, compact, and an ultra-flat design. The power supply method is via a USB cable that measures approximately 1.5 meters, accompanied by an ON and OFF switch. The weight is 599 g. Although you can't consider a graphic tablet, it's an excellent economical alternative if you can work with a drawing table

Pros:

Three levels of brightness adjustment
Pretty good LED technology
Eye protection

Cons:

Has to be connected to a power source
XP-PEN Artist 12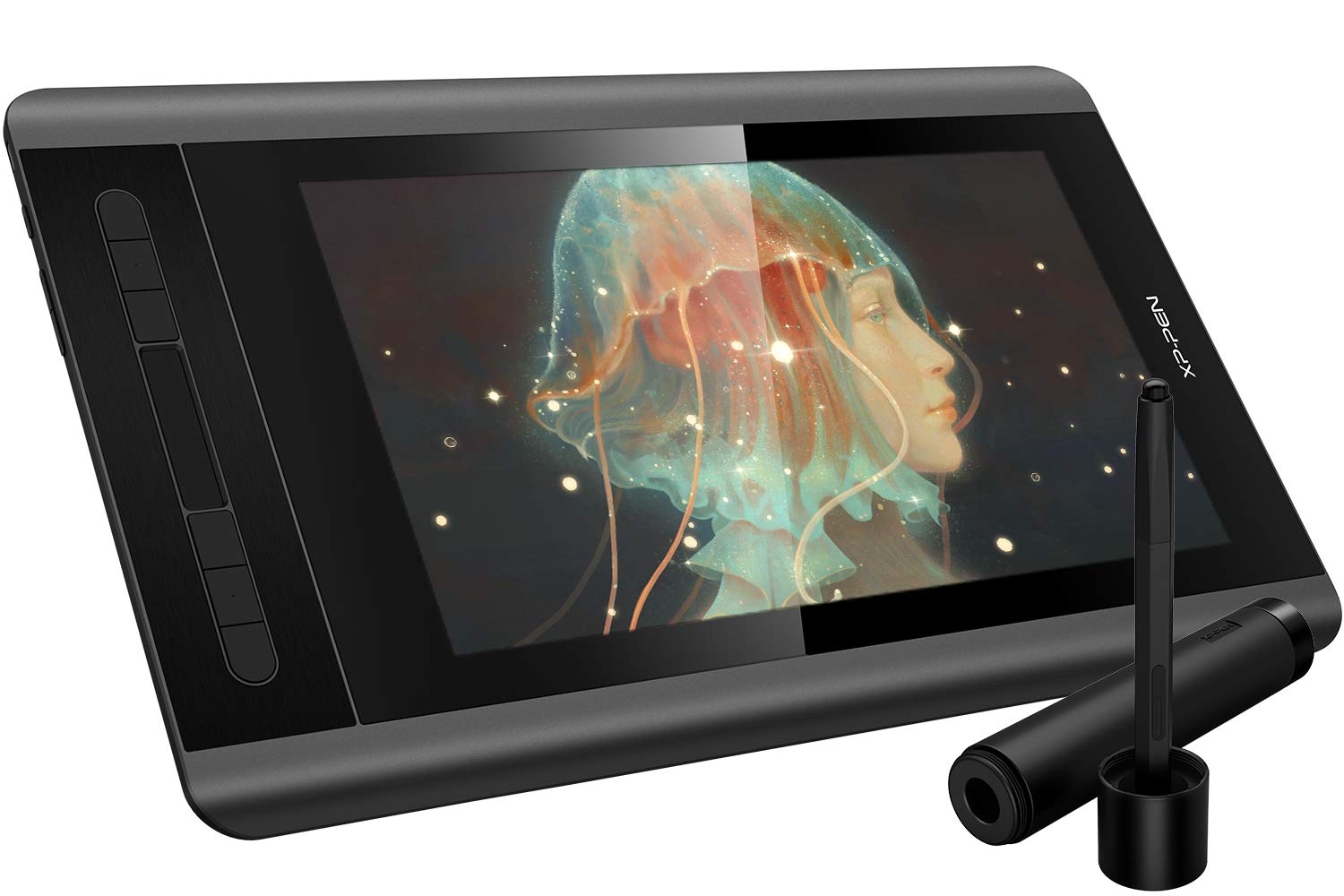 With six express keys that can be programmed to suit your needs and enhance your workflow, a gorgeous full HD 1920 x 1080 display and a well capable battery-free stylus with those 8192 levels of pressure sensitivity that is pretty much the standard now even with low budget cheap drawing tablets.
The USB type-c connector and smart connection are much appreciated on this model as they allow for easier and effortless connectivity.
It's compatible with MAC OS 10.10 and above as well as Windows 10, 8 and even 7 32-bit and 64-bit.

Pros:

8192 levels of pressure sensitivity.
Six express keys

USB type-c and smart connection
Cons:

It doesn't come with support.

No tilt pressure on the stylus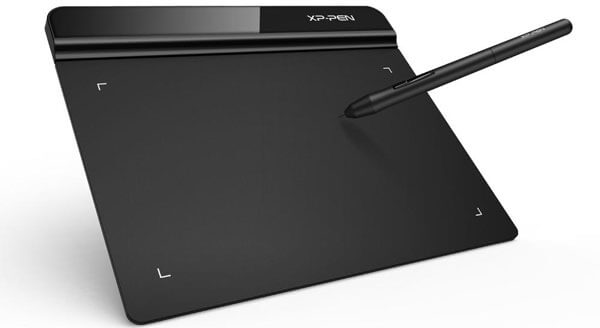 As we said previously, a battery-free pen is always a good thing. Let's start with that.
The XP Pen Star G640 is a capable tablet. Also, the company is being really generous with the extra 20 replacement nibs. That's awesome. As a beginner, you'll probably be practicing a lot which means burning through nibs pretty fast. Those 20 extra nibs are going to last you a long time so that's one of the aspects you won't have to worry about, which leaves you to focus solely on your art.
The pen itself also has a neat toggle system programmed on the buttons where regardless of any software you use, you can change from pen to eraser and vice-versa with one click.
The drawing area size itself is just enough for a beginner. Beginners usually draw by making motions only with their palm, which makes for smaller movements and makes the size appropriate. However if you are used to drawing from the elbow, as you should be by the way, then you may find the size restrictive.
Bonus information: If you'd like to play OSU in your free time, this tablet is the best one. For those of you who do not know what OSU is…you can google it.
Pros
Battery-free stylus
You can use it for OSU
Pen and eraser one-click toggle is a neat feature
Great price at Amazon
20 replacement nibs included
Cons
Build quality doesn't feel that great
Gaomon S620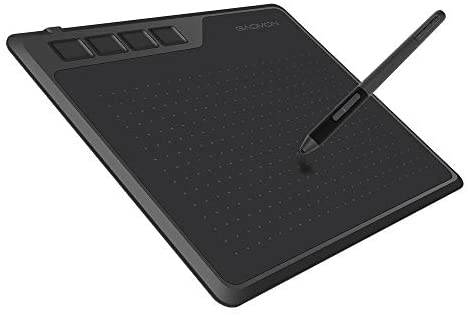 From the Gaomon brand, it has a very fine design with a thickness of only 8 mm.

The device contains a non-slip mat on the back, so it won't move while working with it. The hard drive interface is USB 1.1 and contains a stylus capable of recognizing 8192 levels of pressure sensitivity.
It has great compatibility with both Windows and Mac, as well as different graphic design and drawing programs: Photoshop, Illustrator, Corel Painter, Manga Studio, Procreate, etc. It features 4 customizable buttons and up to 8192 pressure levels for the pen, a fantastic figure for a model in its range. It has a very durable battery and is an excellent choice to play Osu btw.

This stylus has two customizable buttons and to work you need two AAA batteries. This model works with Mac 10.10.0 or higher operating systems, as well as Windows 7, 8, 8.1, and 10. In addition, it supports design and drawing programs such as Corel Draw, Macromedia Flash, Adobe Photoshop, SAI, Adobe Illustrator, Corel Painter, Comic Studio or Adobe Fireworks.

This model is also available with two styluses.


Pros:

Very beginner-friendly
Excellent value for money

Great for playing OSU
Cons:

No pen holder
Small area size
BONUS: Newyes NYWT850 8.5″ graphics tablet for kids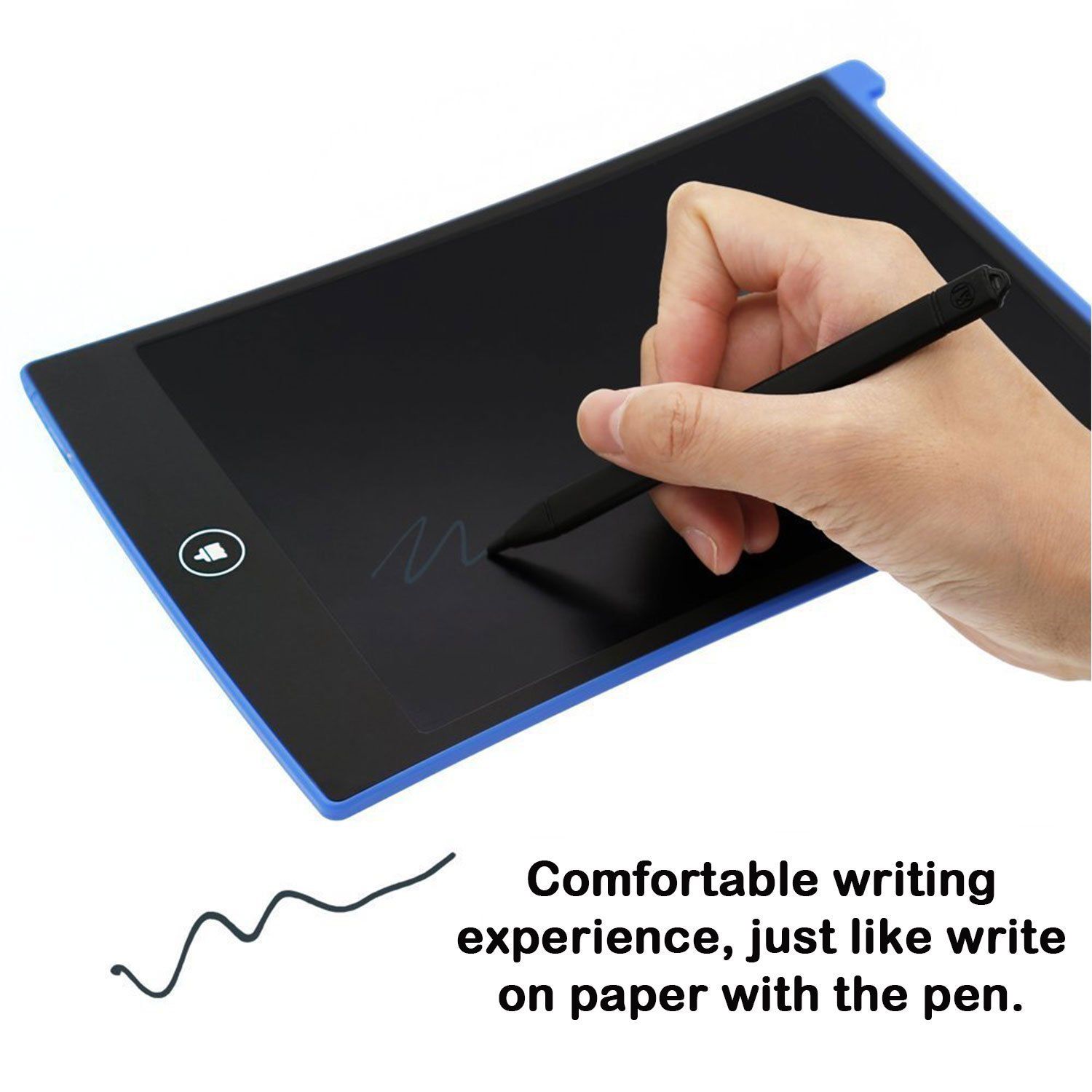 The Brand Newyes manufactures this model with which you can create lines of different thicknesses on an 8.5-inch surface. The dimensions are 22 cm long by 14.5 cm wide and its approximate weight is 100 gr. All content can be removed at the push of a button, via a flash of the screen made of liquid crystal. The Newyes board can be erased up to 100,000 times.
Pros:

Ideal for children over three years

Intuitive, approachable, easy and age-appropriate device
Cons:

You children can't save their art because the tablet has no memory
So, while we covered a pretty great deal of cheap drawing tablets that anyone can afford, there is still the dilemma of which tablet to pick, or more precisely, how to make the pick. Well, we've also covered the most important factors you'll need to take into consideration if you want to buy a cheap drawing tablet but don't know which one exactly.
So, besides having an affordable price as a starting point, other features you should look for in a drawing tablet are these:
Tablet Type: First of all, depending on what you are planning to do, you'll have to choose between as standard graphics tablet and a drawing tablet with screen. The latter are a lot more expensive, but there are still some affordable options on the market that came out recently. Be sure to check amazon for both types.

Programmable buttons: Nowadays almost every cheap drawing tablet has express keys that allow you to map them to your favorite software or PC shortcuts and in that way, this smoothens the experience without you having to reach out to your keyboard every time you need to perform an Undo or zoom out.
Price: If you are just starting out, whether it's drawing, design or photo-editing then you might not want to have a starter budget from 50- 200 dollars.
Stylus: The best option here is a lightweight battery-free stylus, with programmable keys than enable you more customized workflow.
Compatibility: Even the cheap drawing tablets today have no problems with compatibility regarding devices, operating systems, and software. Some brands have even gone further by making some of their models compatible with Android devices. Compatibility offers versatility both at home or when on the go so it's something to keep in mind.
Connectivity: Very important feature, in terms of having your tablet connected to any device that you use during your workflow, like your computer or even a monitor. The most common connectivity features are a USB-powered connection nad wireless or Bluetooth connection.
Portability: When it comes to portability, some of the small-sized beginner cheap drawing tablets would be your best bet here. Whether you're traveling or want to take your tablet to college, a laptop and a small drawing tablet are a perfect combo. Just throw them in your backpay and you're ready to go.
Accessories:  When looking to buy a cheap drawing tablet, always take into consideration what kind of accessories come with the tablet or if any at all. Besides the standard USB cable connector and pen holder (for some models), it would be nice to get something extra too. But that's usually not the case with the cheap drawing tablets so you'll have to buy some useful extra accessories like a glove or a case separately.
Support: Last, but not least, support. If there's one thing for sure, it's that you'll encounter problems along your artistic journey, beginner or pro. So good driver support and a helping community are some things that should not be underestimated.
Well, that's all, folks! We hope that this extensive list will prove useful to you when it comes to buying a cheap drawing tablet. You can easily find any tablet on this list on Amazon and get it delivered to you in these times of COVID 19.
Stay safe!