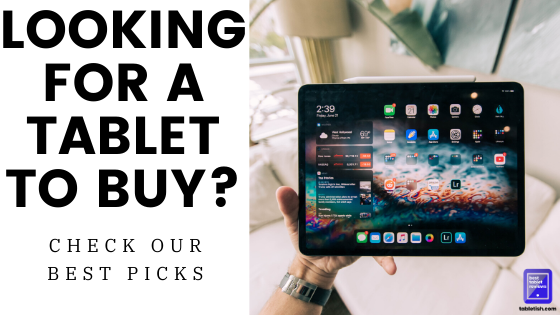 If you are looking for the current best tablets to buy, you have come to the right place.
While the iPad excels in this category, there are still many options on both large and small tablets. Only devices we've reviewed in full appear in this list, but we cover all operating systems and all sizes. We've also included some 2-in-1 devices that are full Windows PCs, but the key is that they have a detachable keyboard instead of being a laptop.
Here are the best tablets to consider, sorted by size.
The Best 7-inch and 8-inch Tablets to Buy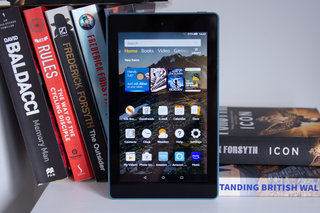 Amazon Fire 7
If you decide to buy the Amazon Fire 7 won't win any awards for its design, but offers solid construction, excellent value for money, and seamless integration with your Amazon account. Its screen resolution is not the best, it is not the fastest to charge and the battery life could be better, but Fire 7 is easy to recommend for anyone looking for a tablet for kids.
If you want something bigger than your phone to browse and shop, or watch TV or movies in bed, then Fire 7 is an excellent choice. It is a tablet that is so affordable that it is almost disposable. As a headmate or travel pacifier for children, the Fire 7 should be one of the first devices you consider.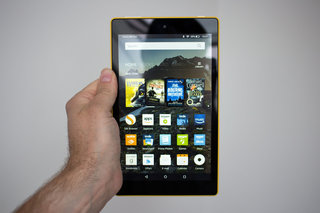 Amazon Fire 8 HD
When looking for the best tablets to buy, the Fire HD 8 is giving you the best of both worlds between the incredibly good value of Amazon Fire 7 and the larger Fire HD 10. While the performance and features of the Fire HD 8 are better than those of the Fire 7, it also manages to outperform the Fire HD 10, making it a slightly more attractive proposition for those who want to travel with it.
The Fire HD 8 is well-positioned for entertainment, especially for those who are Prime members, where value for money cannot be contested. Whether you're a globetrotter, looking for a travel tablet or just something to entertain your kids, it's worth considering to buy the Fire HD 8. At this price, there is very little more to come.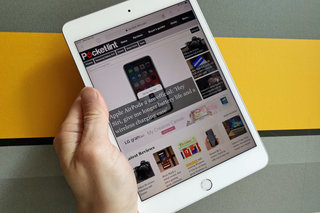 Apple iPad mini (2019)
The Apple iPad mini 5 is faster, thinner and more successful than its predecessor. It is now extremely powerful and is the most iPad many people will need; Buying this charming and compact tablet with an anti-reflective screen coating makes it the best pick for watching movies, playing games and reading or writing on the go.
In addition to unmatched power for its price, the iPad mini 2019 retains the device's most recognizable features: the screen size of 7.9 inches along with Touch ID: the screen space is almost double that of the iPhone 11 Pro Max. However, Face ID is expected to reach its successor.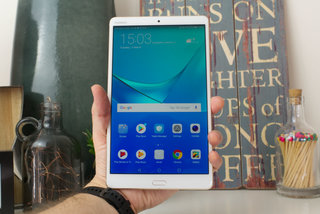 Huawei MediaPad M5
There's a lot I like about the Huawei MediaPad M5. It's everything you could want from a tablet designed to entertain you, a great portal for your browsing, movies and games, and offers the performance that will satisfy many while avoiding the temptation to encourage you to use it for the job. It is also well built, it is a pleasure to use it, offers good audio performance and also has a smart fingerprint sensor.
Its biggest challenge is that it is similar in price to the iPad mini and even the larger iPad of 10.2 inches.
Best 9-Inch and 10-Inch Tablets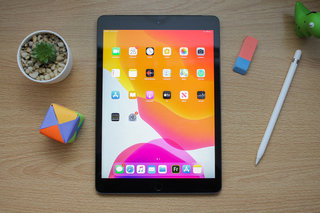 Apple iPad (2019)
Apple's iPad (2019) replaces the 2018 model (a little lower in this list) with a larger screen and smart connector for keyboard and accessories support. Miss a couple of features on your list compared to more expensive iPads, such as Face ID, an anti-reflective display and opt for an older processor, but this tablet remains the best affordable tablet money can buy in this size.
It has the ideal performance for apps and media consumption, an affordable price, Apple Pencil and iPadOS support is great for multitasking. Despite numerous other iPad options, the iPad 10.2 (2019) is the perfect choice for iPad for many, as there is no better entry-level tablet.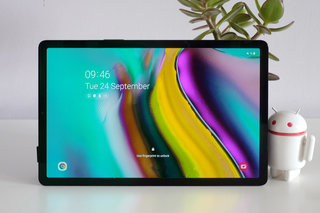 Samsung Galaxy Tab S5e
The Samsung Galaxy Tab S5e features most of the fundamentals of Samsung's high-end Galaxy Tab S6, but for much less money.
If this is your choice to buy, it offers excellent speakers and probably the best OLED displays present in tablet computers making it perfect for entertainment along with a great battery life and a solid design.
There is no support for stylus or 3.5mm headphone jack, but that's more or less in terms of its weaknesses.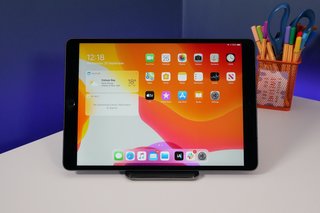 Apple iPad Air (2019)
The Apple iPad Air (2019) is more expensive than the previous iPad 10.2, but looks a lot like more expensive iPad Pro models, only without the name, Face ID, USB Type-C connector and uniform bezels.
This iPad offers powerful and fast performance, all-day battery life, great features like Support for Apple Pencil and Smart Keyboard, and the iPad's user interface only improves the experience.
Priced below £500, the iPad Air (2019) is a very attractive offer.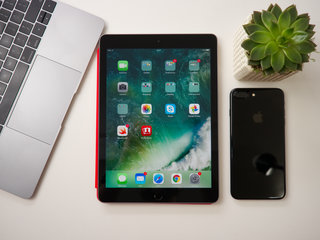 Apple iPad 9.7 (2018)
The 2018 Apple iPad tablet might have been succeeded by the 10.2-inch model, but it still offers a solid and consistent tablet experience at an excellent price and probably cheaper than the newer model if you can find it.
Its design remains charming, is compatible with iPadOS and its performance is sleek and reliable. There is also support for the super, but expensive, original version of the Apple Pencil, although there is no smart keyboard connector like the new model. It's not the iPad to choose from if you want a laptop replacement, but it's a great tablet for entertainment and general tasks.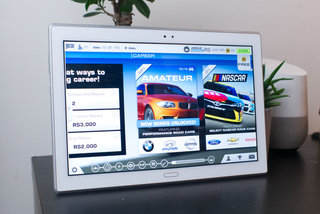 Lenovo Tab 4 10 Plus
Lenovo's Tab 4 10 Plus is a few years old, but offers good screen quality and overall performance, making it perfectly suitable for a mid-range tablet.
It's not as well built or considered an iPad, despite costing a similar sum of money, but like a media consumption machine, the Tab 4 10 Plus comfortably fits everyday life.
It offers an easy-to-use, simple and reliable platform to watch Netflix in bed or keep your progress in Real Racing 3.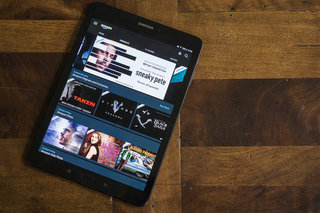 Samsung Galaxy Tab S3
The Samsung Galaxy Tab S3 has been replaced by the Tab S5e and Tab S6 tablets, but it is still worth considering, especially considering that its price is much lower now.
It may not offer the latest design, but it's still attractive, slim and lightweight, while offering a fabulous AMOLED display that includes pixels and HDR brightness.
It includes a bright S Pen stylus in the box (a keyboard is not included, but it is available) and, despite being succeeded by more powerful models, as Android tablets advance, the Tab S3 should not be ignored if you can find a good price.
Best 2-in-1 Tablets to Buy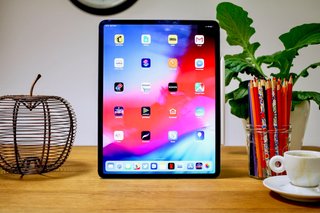 Apple iPad Pro 12.9 (2018)
The 12.9-inch Apple iPad Pro is a fairly exceptional tablet device that offers a charming design, fantastic display and brilliant performance that really is portable class. The second-generation Apple Pencil and redesigned keyboard can cost more than an already expensive device, but they're great additions.
Along the way, this model is a natural replacement of the laptop, which facilitates many things, especially with the iPad's user interface. It may not yet completely replace the laptop in the office environment for everyone, but overall it is an exceptional tablet, if you choose to buy it.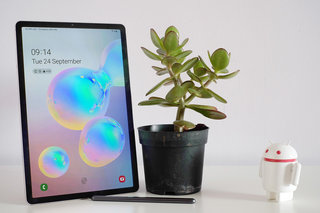 Samsung Galaxy Tab S6
The Samsung Galaxy Tab S6 tablet is expensive, but when it comes to Android operating system, it's the best. It offers a beautiful vivid display, excellent power, bright speakers and is a great device for drawing.
Like the iPad Pro, it won't be enough as a laptop replacement for everyone and, as we said, it's certainly not cheap, but if Android is your thing and you want the best of the best, then the Tab S6 is the choice.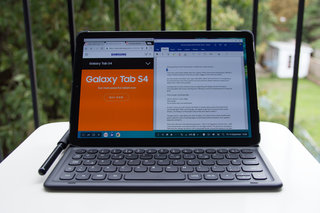 Samsung Galaxy Tab S4
The Samsung Galaxy Tab S4 could have been succeeded by the Tab S6, but this tablet is still a tablet meaning business. It's cheaper than it was when it was first released and, although it's still expensive, it has a fantastic display, a lovely design, great battery life and an excellent keyboard experience if you buy it.
Android tablets have not always had the best reputation, as Android tablet apps tend to be a little deficient, but Samsung tablets, including the previous Tab S3 above, are devices to consider and the S Pen stylus is included in this device as was the S3.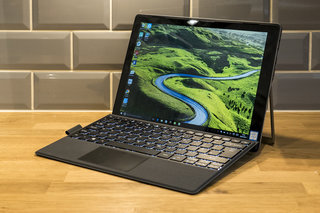 Acer Aspire Switch Alpha 12
With the Acer Aspire Switch Alpha 12 tablet device, the Taiwanese company's bet is liquid cooling, affordability and a complete laptop-like experience. It has a limited battery life and does not offer the smallest or lightest design, but as a full laptop replacement, or 2 in 1, the Acer Aspire Switch Alpha 12 meets many of the requirements.
Its support is solid, the silent operation of the LiquidLoop cooling system is an obvious benefit and there is a lot of power available. It is also affordable, offers a decent screen and a keyboard and a pencil are included in the box so picking up this one is a reasonable decision when looking for the best tablet to buy in terms of what it can offer you for the money you are willing to spend.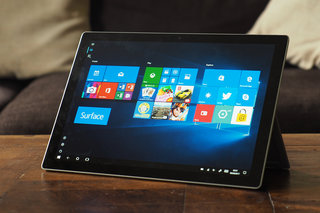 Microsoft Surface Pro 7
The Microsoft Surface Pro 7 has a refined design, a charming keyboard that offers an excellent typing experience, even if you have to buy it separately, an excellent display and lots of power. 
Performance was improved over the previous generation and, although this 2-in-1 tablet can be expensive to the point that a laptop might make more sense, it's a very well-made Windows device.
With an official-type cover in place, the Surface Pro is a formidable machine that not only looks better than its rivals but also has fewer commitments than many. So, being one of the best tablets to buy, the Surface Pro 7 is a worthy companion to anyone in need of a 2-in-1 tablet.
Microsoft Surface Pro 6
If you are looking to buy a tablet that uses Windows 10, one of your best options (although a bit older)  is without a doubt the Microsoft Surface Pro 6. It sure won't get any awards for the most innovative device on the market and it's a bit older than its younger brother Surface Pro 7 but this is a great tablet to buy because it's reliable and will fulfill just about all your casual needs daily and will even fit in your workflow just as well as any other tablet you were planning to buy.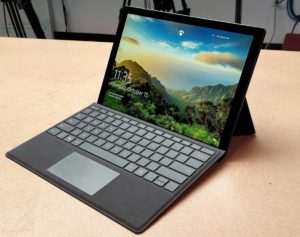 The 8th-generation quad-core processors improves the performance in comparison to previous models and makes it more than a feasible option to use it as a PC. Thus, this versatile device will also fit great with anyone who'd want to use it as a laptop.
It's hard to find a battery life as durable as this Surface Pro on another tablet although it's in our 2-in-1 category. We like its matte black version that's available to buy on the market.
One of the biggest cons is that it doesn't include any USB type-C ports, which is outright sad.
As a closing note, when choosing the best tablet to buy, remember that when it comes to tablets, the newest doesn't always mean the best: the tablet category moves much more slowly than phones, so it's worth considering a tablet that's even a couple of years old.