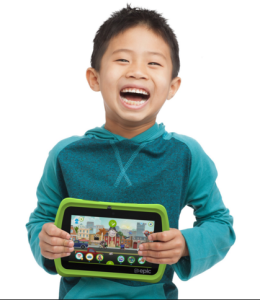 Kids Tablet Reviews
Children's tablets have made some major strides in 2016. As manufacturers strive to close the gap between child and parent tablets, the more toy-like devices have been replaced with sleeker, tech forward options. Tablets for kids are often included in the list of top Christmas toys
According to kids tablet reviews, these new kids tablets feature faster chips, improved screens and fashionably slimmer bodies. This gives your child access to more learning apps, books and other educational tools than ever before.
Here is a look at four must-have best kid's tablets of 2016:
LeapFrog Epic
This device is specially designed to look and feel just like a regular tablet. Not only is it faster than its predecessor, the LeapPad, but it also comes with more educational features and access to android-based games such as Doodle Jump and Fruit Ninja. Default internet access is limited to 10,000 kid-friendly websites, but parents can add additional safe sites through the LeapFrog Epic settings.
Nabi Elev-8
This 8-inch tablet boasts a speedy processor and plenty of built-in games and learning tools. Although finding this tablet in stores can be a challenge, it is well-worth the effort. For just $5 a month, owners of this Wifi tablet can subscribe to NabiPass. This subscription service grants children access to a huge library of standard and interactive kid-friendly books.
Amazon Fire Kids Edition
This internet tablet is designed for use by the entire family. In addition to separate kid and adult-modes, the Amazon Fire Kids Edition features an array of parental control features. Each tablet comes with a one-year subscription to Amazon's FreeTime Unlimited application which gives children access to a library of more than 10,000 kid-friendly books. As an added perk, the Amazon Fire comes with a 2-year replacement plan.
Kurio's Xtreme 2
Equipped with a fast processor, sleek screen and plenty of storage, the Kurio Xtreme 2 is a force to be reckoned with. This tablet features motion-enabled games like swimming and skiing that capture your child's movements. Additionally, the Kurio Xtreme 3 features filtered internet access and enables users to browse a huge selection of standard games and educational applications via app stores.
Learning tablets have revolutionized the way that children learn and play. These 4 internet tablets represent some of the top innovations in the tablet industry.