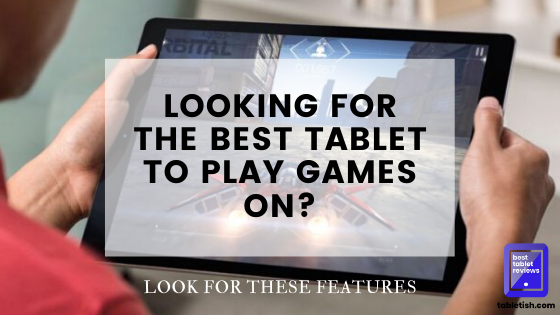 If you've noticed, while there is more and more attention dedicated to transforming our tablet devices into capable working tools that will provide us ultimate mobility with least amount of compromise on workflow and functionality, the big truth is that many people actually use them more as their primary multimedia device, especially, to play games on. Is it worth getting a tablet to specifically play games on it?
How to even decide which tablet to buy for gaming? Based on what? Fear not, because tabletish.com got you covered.

What constitutes a gaming tablet decent enough for you to play games on it?
We can't magically give you the best tablet to play games on (or can we?) but we can inform you what to look for in a tablet, so when buying one specifically for gaming, you know what to look for.
The first thing we have to think about when choosing a tablet to play is what are the features that will enhance the one that we have the best experience of use with them and it must be said that they are quite, really, and we can not really highlight one. In a sense, in fact, the choice at the end is a matter to a large extent of seeking a balance between all of them, plus the investment that we are willing to make, of course.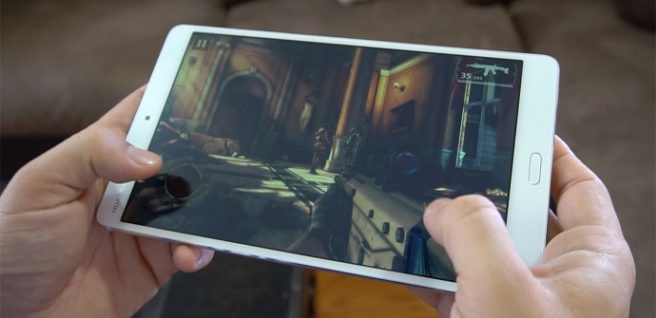 Gaming means GPU power
When it comes to playing games, be it on a PC, console, or a hand-held device, the king is always the graphic processing unit. Of course it's not that simple, but, a powerful GPU is what your device will definitely need.
It's true that many of the most popular games on mobile devices are quite simple and run well on any more or less current device, but there's nothing more frustrating for pro gamers than to find that one of the new releases they've been waiting for long to get their hands on doesn't go on their tablet or smartphone.
Keep an eye on the 2 in 1 Windows tablet versions
An example to take into account the difference between what we normally consider as good performance and the one we need specifically for games, we have with the best 2 in 1 Windows,
which are of the most powerful devices that we can find today, but that is not as brilliant as you would expect for you to play games on them because they do not usually have good graphics cards but are worth the compromise and the budget.

It must be said that they are still more than able, of course, to run and play the games that we normally run on Android tablets and iPad, but only with many limitations can we expect them to enjoy the best PC games (if we want to go smooth the most recent releases we will probably have to lower quite the FPS and resolution).
A good screen (which is not just high resolution)
This is when we need to start adding considerations. A fundamental, of course, is the screen, since the games with the best graphics will thank not only a high resolution, but a good image quality in general, which takes in consideration screen contrast, colors, etc. including some features that make us have good visibility outdoors (if what we like to play on tablets is above all that we can take it anywhere) and that would be fundamentally high brightness levels and few reflections. Here you know that above-average stand out the Galaxy Tab S3 and iPad Pro 10.5, but there are a few tablets with good screens and more reasonable prices to consider.
Quality audio output
Although the screen is essential to keep in mind that there is a point at which to gain inches of surface will start playing against us, unless we normally use controllers or that it is a 2 in 1 in which we play with keyboard and mouse, for a simple reason: ideally it is a tablet as light as possible because you have to think that we will hold it in our hands for very long periods of time. And as far as the multimedia experience is concerned there is another point to keep in mind that it is audio: it is always better to have stereo speakers (sound can be as important as graphics in a good game), but keep in mind that depending on where they are placed it is easy for us to cover them with our hands.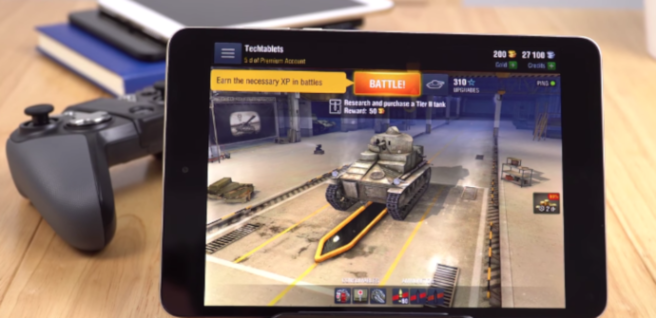 Tablet controls matter when playing games
One of the main claims we often find on tablets specifically designed to play, for example among Chinese low-cost tablets, are Nintendo Switch-type controls.

It will depend a little on what is most important to us, but the reality is that we often lose a lot in technical specifications and there are many other options that can give us a good experience of use: we can connect keyboards and mice, use wireless controllers.
Good battery life is also important
It is not as important perhaps as the other factors that we have mentioned, but depending on what our habits are it is not worth considering: if we take a lot of our tablet from home we not only have to think about outdoor visibility but also the battery, because games are one of the activities that consume the most, especially depending on the type of screen that we have.
This applies to everything, of course, but it's true that if what we do is mostly browse, stream movies and edit some documents from time to time, we'll probably handle it well with more limited storage. The games, however, take up a lot of space, and the level ones even more, and we won't want to be installing and uninstalling if there are several titles that we play with some frequency.
And it must be said that this limitation, in this case, is not solved also as in others with a micro-SD, because the most demanding games is preferable that they are installed on the tablet itself for performance reasons (and of course with the iPad we don't even have that option).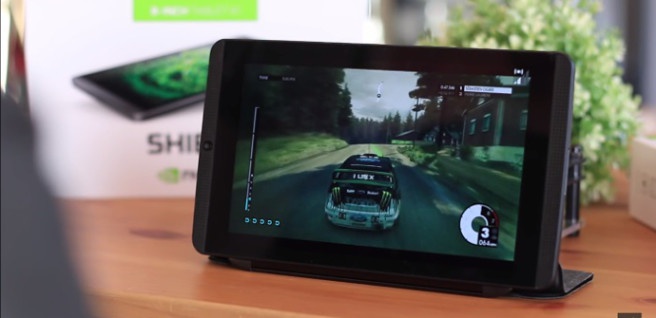 What about the operating system?
If we get hold of Windows tablet it is clear that we will be able to access PC games, which are generally at a higher level than those of mobile devices but, as we have said, we have to be aware that not even the best 2 in 1 are built for gaming and we will have to accept certain limitations.
As far as iOS and Android are concerned for playing games on a tablet, the advantages of each one are well known: the App Store still gets to release titles with a lot of pull before, but it has fewer and fewer titles that are completely exclusive; with Android we have many more free games, but realistically, if we really like to play, most of the time we deserve the most worth it. Our conclusion is that this is a factor that matters less and less.
Should I consider buying a 4G tablet?
Today many of the most popular games need online connection, even those that are not focused on multiplayer mode, but these are also the ones that will normally hook us the most. As in other cases, depending on how much time we spend away from home and we may agree to consider the possibility of getting hold of a 4G tablet, although we have already commented on other occasions that there are many more options to not go offline when we do not have our own Wi-Fi available and are probably cheaper, although this is already a more personal assessment that each one has to make.
Our picks: The iPad Pro 11 and the Galaxy Tab S6
It is not too original and it is true that they are not within everyone's possibilities, but our first recommendation can not be other than the iPad Pro11 and galaxy Tab S6 which are the two best tablets to play games on and overall multimedia usage.
They stand out in all the sections that we have recommended you to take into account: the Apple tablet is really a performance monster and the Samsung's Galaxy Tab S8 is on par too. It does it all when it comes to graphics, audio, and image quality. Both are great all-around tablets with a lot of accessories available if you want to widen your experience when playing games on a tablet.
Other tablets to consider:
Keeping the iPad Pro 10.5 and the Galaxy Tab S6 out of the equation, you still have some really nice alternatives if you need a more-than-decent tablet device for gaming:
The iPad 9.7 – Still a great choice, with outstanding performance and autonomy, good image and sound quality, and many interesting accessories at your disposal.
Galaxy Tab S5e – A powerful alternative with actually a newer chip than the S6 but lacking in GPU with the Snapdragon 670 which is a mid-level chip when it comes to gaming.
Microsoft Surface Pro – With a big 12.3-inch screen this tablet surely delivers in the screen size department. So, when it comes to playing games on a tablet, the Microsoft Surface Pro 6 offers a fantastic on-screen experience coupled with an intel 8th gen processor and 8 gigabytes of RAM. The internal 128 gb storage is also more than enough.


Conclusion
So, there you have it, folks. You are on a quest to find the best tablet to play games on? No biggie. Just stick to the advice we shared in this article and treat it as your guide when it comes to buying that tablet that will give you the ultimate gaming experience and you won't make a mistake.